Create Live, On-Demand and Simulive Webinars
Ramp up engagement, generate leads, share expertise, grow your business, and most importantly - create memorable live, on-demand and simulive webinar experiences for your audience, wherever they are with WorkCast's powerful webinar platform.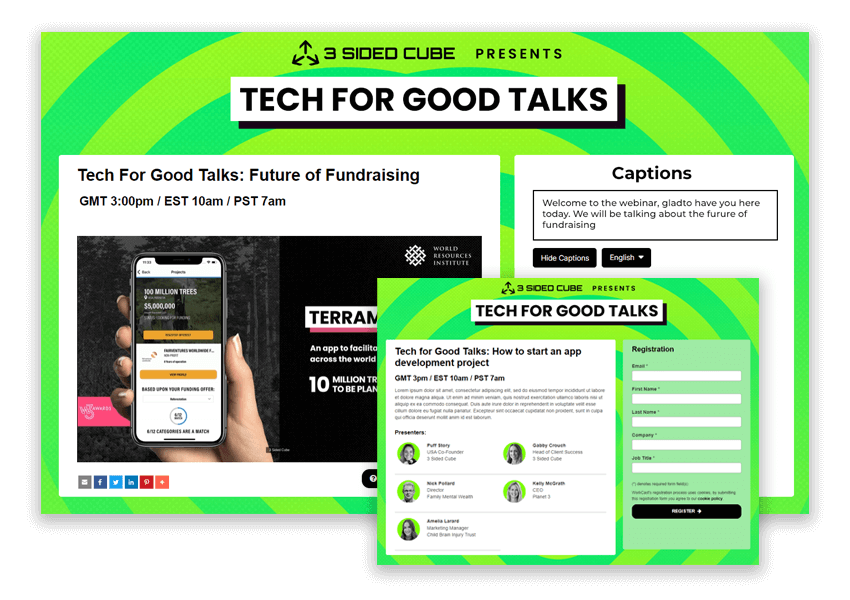 What is a Webinar?
A webinar is an online seminar that allows you, or a presenter, to connect with your audience and share information online. 'Web' + 'seminar' = 'webinar'.
Webinars normally take the form of a presentation and often combine slides, webcams, a screenshare, pre-recorded mp4s, and accompanying audio. They can be presented live, simulive, or on-demand. Webinars can be used for corporate communications, lead generation, product demonstrations and so much more!
Checkout our blog post What is a Webinar? for a more detailed overview.
WorkCast Offers Five Main Types Of Webinars
Your webinar, your way. No matter what your webinar aims are, we've got a set-up to suit your needs that'll also look ridiculously good.
Sponsored Webinars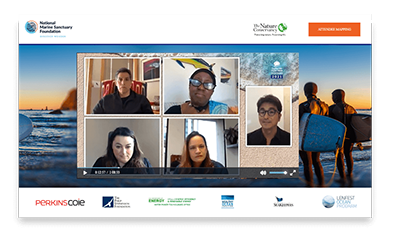 Generate Quality Leads
Sponsored Webinars
Boost lead generation and revenue with co-branded experiences
Sponsored webinars are online seminars that connect audiences to webinar hosts. The only difference between traditional webinars and sponsored webinars is that the latter involves paying a third party to organize and promote your webinar to their audience.
Sponsored webinars are not only an effective means of mass communication but a lucrative one - as publishers are able to charge tens of thousands for webinar sponsorship.
In fact, 73% of marketers say webinars are one of the best ways to generate quality leads, which is why sponsored webinars are becoming increasingly popular with brands who are looking to boost lead generation and revenue.
Learn More
CPD Webinars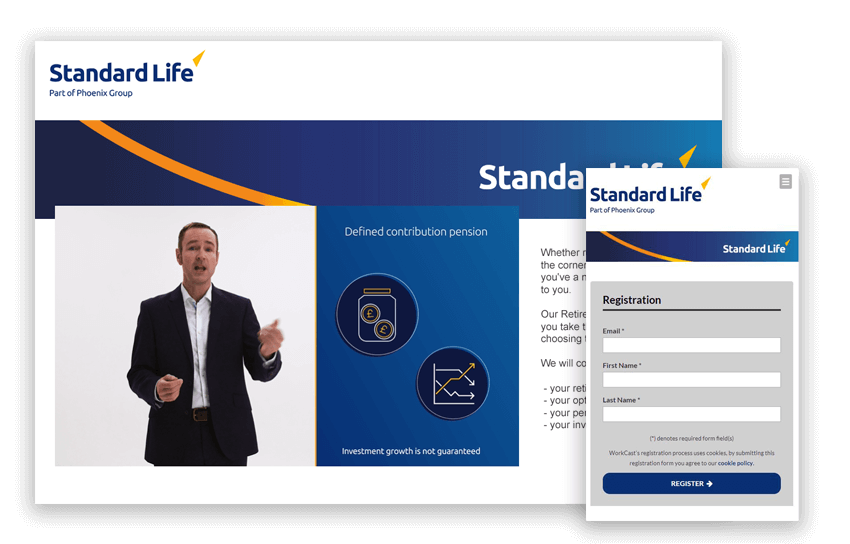 Continuing education and professional development
CPD Webinars
Branded CPD Certification for your audience to download instantly
CPD, CPE, CME and CE are all acronyms that refer to continuing education and professional development.
Continuing education and professional development courses help professionals maintain their knowledge and skill after leaving formal education. The requirement to take part in these CPD webinar courses is often compulsory, mandating that a minimum number of hours or points are achieved each year.
With WorkCast you can easily create and configure polls to trigger within your CPD webinars that can include a percentage pass mark. Your webinar attendees upon successful completion of the CPD Webinar, can obtain a branded personalised CPD certificate to download instantly.
Learn More
Give Your Audience the Best Webinar Experience
With WorkCast, you can create the best engaging webinar experiences in minutes.
The Best Webinar Platform Features
Enterprise-level service and webinar software. Whatever events you run. WorkCast's best webinar solutions are feature-packed and flex with you to suit your exact business needs.
We pride ourselves on delivering an industry-leading level of service and support.

Mix in Video
Seamlessly include on-demand videos in your webinar for a dynamic webinar experience.
Mix in Video

Webinar Branding
Create a seamless brand experience with our templated webinar layouts.
Webinar Branding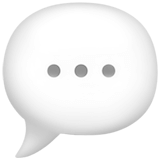 Audience Engagement
Powerful webinar engagement features for event attendees and moderators including Q&A, chat and polls.
Audience Engagement

Live Captions
Enhanced webinar accessibility for users who are deaf or hard of hearing with live video captions.
Live Captions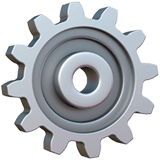 Powerful Integrations
HubSpot, Salesforce, Eloqua, and more. Integrate webinar data into your CRM.
Powerful Integrations

Reporting & Analytics
Real-time webinar analytics and comprehensive webinar reporting dashboards.
Reporting & Analytics

Incredible Support
Webinar help when you need it, never pestered when you don't.
Incredible Support

Innovation
We're always working on new webinar features to bring to our customers to make their WorkCast experience the best it can be.
Innovation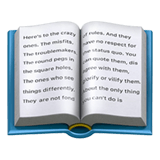 Webinar Library
Your webinar hub for showcasing your live webinars and ondemand.
Webinar Library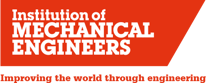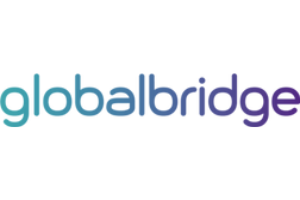 Why Run Webinars?
Webinars provide a cost-effective and accessible platform to reach a global audience, enabling seamless knowledge sharing and networking opportunities.
What exactly is a webinar?
A webinar is an online seminar that allows you, or a presenter, to connect with your audience and share information online. Simply put, webinar means: web + seminar = webinar.
Webinars are either live or on-demand events and take place on the internet in the form of a presentation, discussion, lecture or conference. Using a combination of assets, webinars use of slides, webcams, a screenshare, pre-recorded MP4s and accompanying audio.
WorkCast make it easy for attendees to go to the webinar through a join link on the registration confirmation page. Attendees also recieve email confirmation and reminder emails to ensure they can easily go to the webinar on the day of the event or direct from a calendar reminder link.
Webinars can be used for corporate communications, lead generation, product demonstrations and more. They reach audiences ranging from one person to thousands of people. Audiences sign-up using a registration form, then attend either a live or pre-recorded event.
You can read more about 'What is a webinar?' in our blog post.
What is a webinar platform?
Wondering what a webinar platform is? A webinar platform serves as a comprehensive mixed media hub for hosting interactive online events. It provides a presenter studio, also known as a virtual stage, where webinar presenters can seamlessly deliver live presentations or engage with audiences through simulive events. Simulated live events are pre-recorded media, scheduled to play at a set time. This can take away the pressure of presenting live, but still allow webinar presenters to engage with the audience at a set time.
With the WorkCast Webinar Platform we incorporate 'WorkCast Creator,' an integral component of the platform. This innovative feature empowers you to craft and customize your webinars, incorporating various interactive elements to captivate your audience. Whether it's polls, Q&A sessions, or engaging multimedia, WorkCast Creator brings your vision to life. Plus, the webinar platform doesn't stop at creating events; it goes further by furnishing insightful event analytics. These analytics are a treasure trove of information, allowing you to measure engagement, understand attendee behaviour, and refine your future presentations. With a webinar platform, you're not just hosting events – you're creating memorable, data-driven event experiences
Do you talk in a Webinar?
A commonly asked question is, 'Do you talk in a webinar?' In the realm of webinars, it's common to incorporate a dynamic blend of speakers and moderators, ranging from 1 to 20 individuals, actively contributing. These webinars boast a broad attendance spectrum, spanning from 1 to a staggering 50,000 attendees. To facilitate audience interaction, a text-based Q&A engagement feature is often used, empowering attendees to connect with presenters throughout the webinar's duration. This feature serves not only for real-time interactions but also for dedicated question and answer segments.
It's important to note that webinar attendees generally don't engage in verbal conversations during the live broadcast, unless specifically invited by a webinar moderator to join the presenting studio for vocal participation. It can be common to incorporate webinar breakout rooms after the live event has taken place, where webinar attendees may engage and talk directly to other attendees or directly to the presenters.
When it comes to hosting your own webinar, you can create a webinar from scratch in 10 easy steps:
Choose your organizer, presenters and webinar moderator
Select your webinar format i.e. presentation, panel discussion, Q&A, etc
Design your webinar presentation assets and any video content for your webinar
Select the best webinar platform for your needs, like WorkCast who have a great range of webinar tools and features
How to create a webinar - Make sure it is super easy, as you shouldn't need to be a technical expert. WorkCast make it easy to set up your webinar in just 2 minutes
Promote your webinar using social media, email marketing, landing pages, and website banners. WorkCast make it simple for attendees to go to the webinar
Choose the best day and time to run a webinar for maximum attendance
Select your webinar topics and create engaging content to captivate your audience
Practice, practice, practice - do several dry runs for presenting a webinar
Follow up with your audience post-webinar and send them a follow-up email with a link to the on-demand webinar to extend its shelf life
What is live captioning for webinars and how does it work?
WorkCast can provide a valuable add on feature that enhances the accessibility of webinars through the integration of live captioning. This technology proves particularly beneficial for individuals in the audience who are deaf or hard of hearing, as it enables them to effortlessly engage with the webinar's content delivered through spoken words and sounds. By offering live captioning in webinars, WorkCast ensures an inclusive and accommodating webinar experience, empowering all participants to fully comprehend and appreciate the information presented.
The live captions displays as a widget within the event ensuring the audience can easily still see the live video content and continue to engage throughout the event.
Please speak to us today to find out how this additional feature add on can be incorporated into your webinar programme.
What are the benefits of webinars?
People often ask: "What's the purpose of a webinar?" Webinars are powerful tools for marketers and present many advantages. The top 3 benefits of webinars include the following:
Increase your engagement
Webinars allow you to interact with your audience and have meaningful two-way communication, rather than just talking at them. Your audience can ask questions, answer polls and engage directly with you in real-time.
Fuel your sales and marketing funnel
Webinars are an effective way to increase your lead generation. By presenting on a topic relevant to your industry, you'll not only position your company as a thought leader, but you'll also increase brand awareness by creating new ways for new leads to get to know you and your business.
Awesome brand experience
Webinars help you to make your brand stand out. Great webinars should be fully customizable, so you can create a fun and engaging brand experience for your audience.


"Are webinars effective?" The short answer: yes. Measuring the ROI of webinars can be difficult at times, however, webinars increase audience engagement, boost your lead generation and create memorable brand experiences for your attendees. By establishing a strong connection with your audience, you not only build trust but also generate substantial value for potential leads at every stage of the customer journey. From initial awareness to the ultimate goal of closing deals, you consistently deliver meaningful experiences that foster lasting relationships and drive success.
Webinars are effective as they help to generate sales for businesses by generating high-quality leads that your sales team can later use to initiate personalized outreach.
As long as marketers understand how to best utilize webinars, then companies can continue to use this cost-effective B2B marketing tool successfully in the future.
How much does WorkCast cost and what plans do you have?
Whatever your business goals, or budget, we have a price and plan to suit your needs.
Business
Our Business self-service package gives you all the essentials you need to create webinars that pack a punch. Business enables you to run live and on-demand webinars. With Business, you get an all-access pass for our platform features, plus one branded template, access for two users, and leading integration capabilities with popular SAAS tools.
Business Pro
Our Business Pro plan is a step up from Business. It's packed with all of the platform features you get with Lite, but with a few extras. Business Pro users benefit from three branded templates, a registration capacity of up to 5000, one webinar library, access for five users, and leading integration capabilities with popular SAAS tools.
Enterprise
Our Enterprise plan is crafted to meet your needs to an absolute tee. Think ice cream sundae. You choose your favourite flavours, sauces, sprinkles, cream, and any kind of fruit you want on top. It's bespoke, it's unique, and it's made just for you.
Pricing
We build our plans to suit your exact needs, so you will need to contact our sales team for a quote.
Can I try WorkCast for free?
Absolutely. You can get the best free webinar platform experience with our 14-day free trial. You'll be able to experiment with our engaging webinar features, have a go at creating a webinar, and get your teeth into our webinar reporting data and live analytics capabilities.
Can I get a free demo of WorkCast?
Absolutely. You can request a free demo with one of our experts who will take you through our platform and show you how it works. You will also be able to see examples of the best webinars to suit your requirements, and see how to create a webinar easily in 2 minutes within the WorkCast platform.
I want to purchase a one off webinar. Can I pay per use?
Can I purchase an annual subscription for WorkCast?
Yes, you can. Our Business, Business Pro, and Enterprise plans are offered as annual subscriptions which can be paid monthly.
Back to top
Webinar Resources
Our webinar experts have put together some the best advice for how to create webinars that convert, delight, and grow your business.
Ready to Get Started?
Create Branded Webinars In Under 2 Minutes