Everyone knows that if you want to get a job done well, you need the right tools and the same goes for content marketing and webinars.

Webinars provide the most qualified leads of all lead generation techniques, so it should come as no surprise that 60% of marketers use webinars in their content marketing programme.
Having been around since the beginning of the Internet, back in the 1980s, there is a reason that webinars have withstood the test of time.
This reason is simple: webinars work.
So, why is it that webinars have become such an essential part of the marketer's toolkit? Well, you'll find the answer lies in the ranges of benefits webinars provide, such as:
Webinars are the best way to power your lead generation strategy and 73% of B2B marketers agree with this sentiment
Webinars help to maximize your ROI and reduce your marketing spend, as 2-5% of webinar attendees will buy something from you
On average, webinars cost between $100 and $3,000, which is less than in-person events
Webinars extend your global reach, allowing people to safely and easily attend regardless of their geographic location - this is crucial amid the current COVID-19 pandemic
Webinars provide the ideal platform for thought leadership, which is imperative for your credibility
Create a sense of community

by encouraging interaction and giving attendees the means to directly communicate with presenters they might otherwise not have access to
Now you understand the benefits of webinars, you can appreciate why they are an essential component of the content marketing mix. If you're a webinar novice, then you probably find webinars somewhat intimidating and risky, which is understandable. However, as the saying goes: "With great risk often comes great reward."

Webinars are not without their downsides: webinars require weeks of preparation - from drafting the script to creating the assets and finally, hosting the live webinar. But, the return on effort (ROE) is much higher for webinars than any other component of the content marketing mix. Take this blog for example, it is much more time-efficient than a webinar and provides plenty of SEO value in terms of keyphrase visibility, but it does not encourage the same amount of engagement or high-quality leads and the audience cannot interact with the author directly like they can in a webinar.
However, this doesn't mean that all webinars are live. In fact, there are several different types of webinars to choose from - each with their own pros and cons - including: live webinars, pre-recorded, or on-demand, webinars, Simulive and sponsored webinars.
Different types of webinars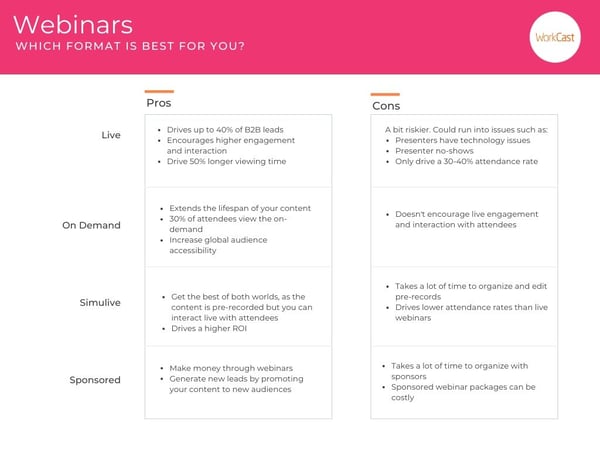 Live Webinars
Just like their namesake suggests, live webinars are exactly that: webinars that are broadcast live. Live webinars are the most effective type of webinar, as they drive up to 40% more B2B leads and 47% more engagement than any other type of online event. Attendees are also more likely to view your webinar in its entirety, as they have taken time out of their day to tune in live.
When to use live webinars:
Broadcasting a live product release or demo
In instances where you would like to facilitate live two-way communication with the audience
For presenters looking to host live Q&A with attendees
When gathering live data and insights on user engagement and behavior
→ Learn more about live webinars
On-Demand Webinars
On-demand webinars are simply pre-recorded webinars. This means that they are recorded, edited and approved by your team before they are published. Hosting your webinars on-demand makes them more accessible to global audiences and allows you to create evergreen content by extending the lifespan of your content, as 30% of attendees will tune in to the on-demand version of your webinar.
When to use on-demand webinars:
When

targeting global audiences in different time zones

If you're nervous to host your webinar presentation live

When setting up a webinar channel to host your pre-recorded webinar content
If you're creating a webinar training program - 70% of webinars are used for training purposes
For those who would like to extend the life of their webinar long after the live event and gain some search visibility
Simulive Webinars
Simulive webinars are on-demand webinars with live interactions, which is why they are often referred to as simulated live webinars. They offer the audience all of the benefits of a live webinar, while providing the presenter with ease of mind knowing they don't have to present the webinar live. WorkCast saw an 87% increase in Simulive webinar attendance in 2019, and we expect this trend to continue into 2020.

When to use Simulive webinars:
If you're looking for the ease and flexibility of a pre-recorded webinar, but want to host a live Q&A with attendees
When delivering a professional training session as part of Continued Professional Development (CPD)
For those would would like to focus their undivided attention on live chat with attendees, rather than just presenting
If you'd like to recycle your content to extend its life span for a higher return on investment
Sponsored Webinars
Sponsored webinars are webinars that involve paying a third party to organize and promote your webinar to their audience. Therefore, sponsored webinars are perfect for those who are looking to make money from webinars, as publishers are able to charge tens of thousands for webinar sponsorship. Sponsored webinars are an effective lead generation tool, as the sponsor promotes your content to their audience, while also lending credibility and authority to your brand through affiliation.
When to use sponsored webinars:
If you're looking to generate revenue through your marketing
When trying to boost your lead generation strategy and promote your content to brand new audiences
If you're looking to increase brand awareness and credibility
For those who want to educate the marketplace and establish themselves as a thought leader
Download our Complete Guide to Sponsored Webinars eBook
So, what's the difference between the types of webinars?
If we were to summarize the difference between each webinar type in a couple of short sentences, we would say: live webinars are broadcast live and are better for engagement, on-demand webinars are pre-recorded and are ideal for evergreen content, Simulive webinars are the best of both worlds and sponsored webinars generate revenue through sponsorship.
You may be asking yourself: "Well, which webinar type is the best?" The answer is none of them, they are all effective content marketing tools. Each type of webinar boasts its own benefits, so it is dependent on your business goals and objectives. If you're looking to encourage attendee engagement, then opt for a live webinar, if you're looking for the highest ROI, then Simulive is your answer, or if you're still unsure, then you can ask your webinar provider and they can help point you in the right direction.