Next-Level Webinar and Webcasting Engagement
At WorkCast, we prioritise delivering exceptional experiences to your webinar audience. Our events platform offers a range of native and plug-in event engagement tools, designed to foster meaningful connections and amplify your brand's expression. With these interactive features, you can engage your audience in a fun and immersive manner, ensuring a memorable webinar experience for all.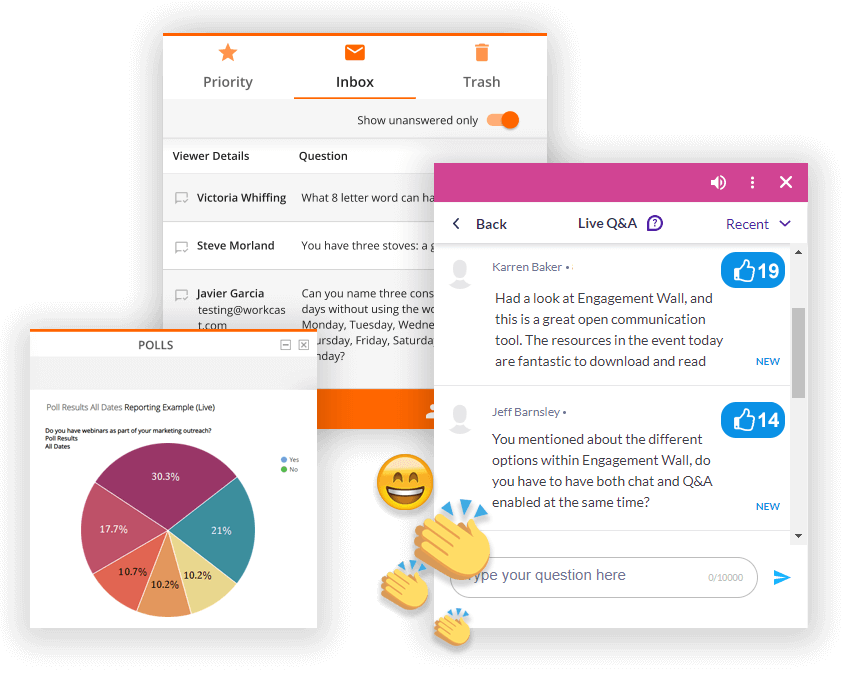 Engage Your Virtual Audience: Unlocking Powerful Event Features
Our comprehensive suite of engagement tools for virtual events, webinars, and webcasts empowers businesses to interact meaningfully with their virtual audience. With interactive features designed for both attendees and presenters, the WorkCast events platform facilitates seamless and engaging interactions.
*currently available with WorkCast Enterprise packages.
Enhance Virtual Connections: Chat Networking Opportunities
An all-attendee chat but with so much more. Open your chat room to all attendees and moderators throughout your event. A great addition to any webinar, virtual event or webcast programme.
🙋 Attendees can send a message for all to see.
👍 Reactions and liking: understand your audience's sentiment in real-time.
💬 Start conversation threads for all to see in the main chat room.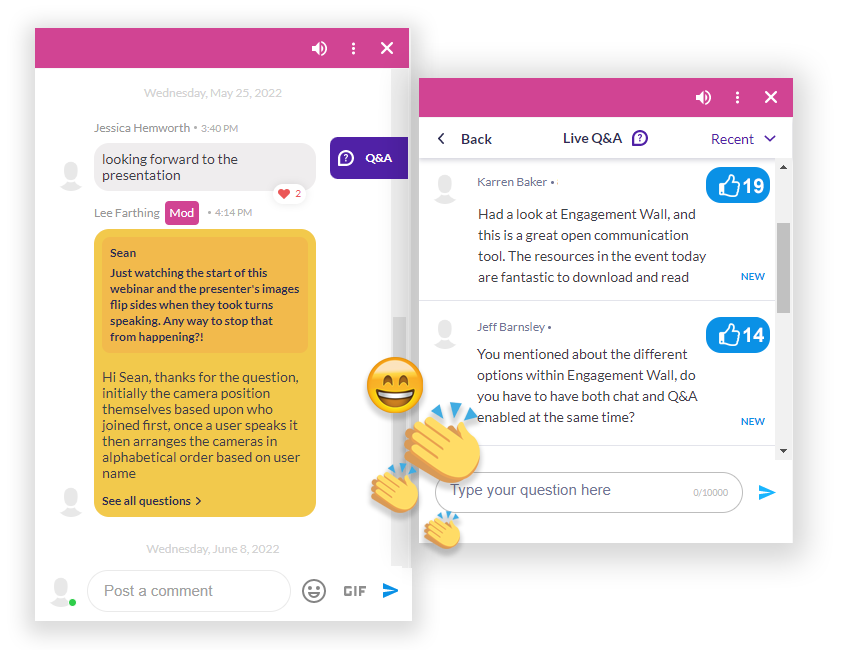 Elevate Engagement: Interactive Audience Q&A
Within the WorkCast Studio you can promptly address attendee questions during your event. Facilitate real-time conversations, ensuring a seamless and engaging experience for your audience.
🗳️ Attendees can easily submit questions in the Q&A tab during live events.
😄 Questions are private by default but can be made public for all attendees to see.
👩‍🏫 Pre-moderate attendee Q&As in the WorkCast Studio admin panel.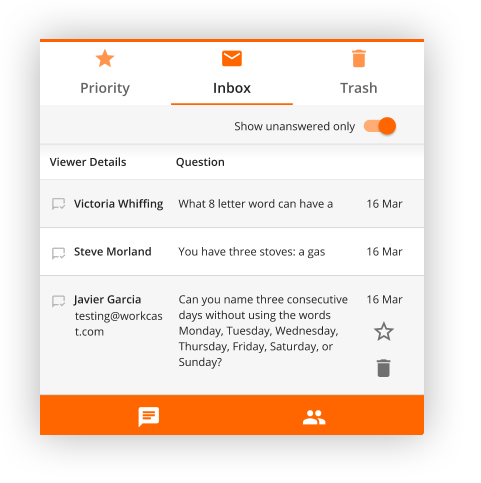 Active Participation: Engage Your Audience with Interactive Polling
Gauge audience sentiment, learn what your event attendees like, and save all that polling data for later. Easy to create within the WorkCast Platform, you can fire live polls during events or schedule polls to fire at points of the media timeline for simulive and ondemand video webinars.
📈 Real-time poll results can can be shared with presenters and the audience.
📊 Graded polls are available for CPD webinar certification.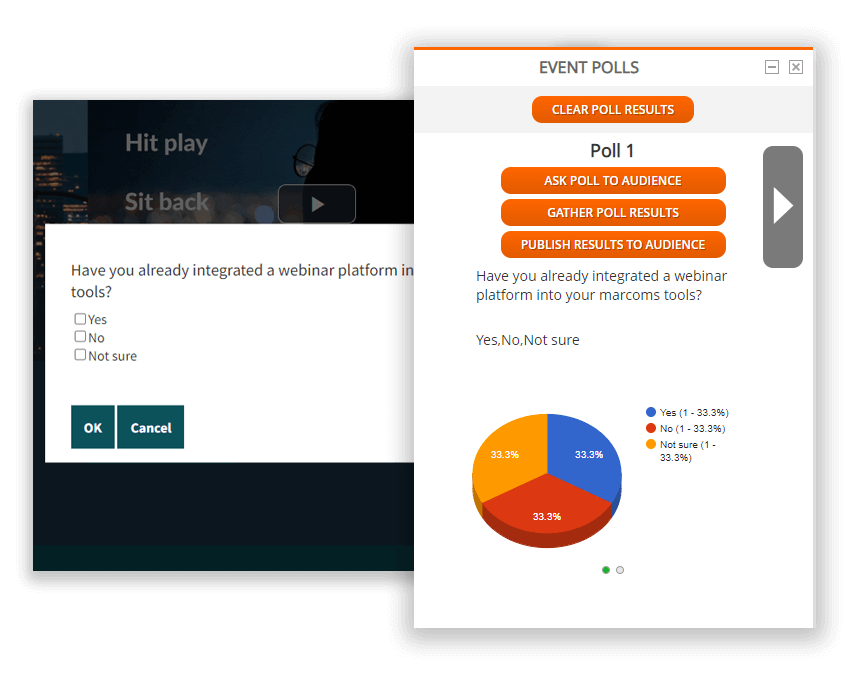 Unleash Interactive Connections: Networking through Video
Start a real conversation during your webinar, webcasts and virtual events by answering your attendee's questions in real-time.
📅 Attendee meeting availability schedule.
✉️ Easy-send attendee video meeting invites.
🏢 Moderator-to-attendee video breakout rooms.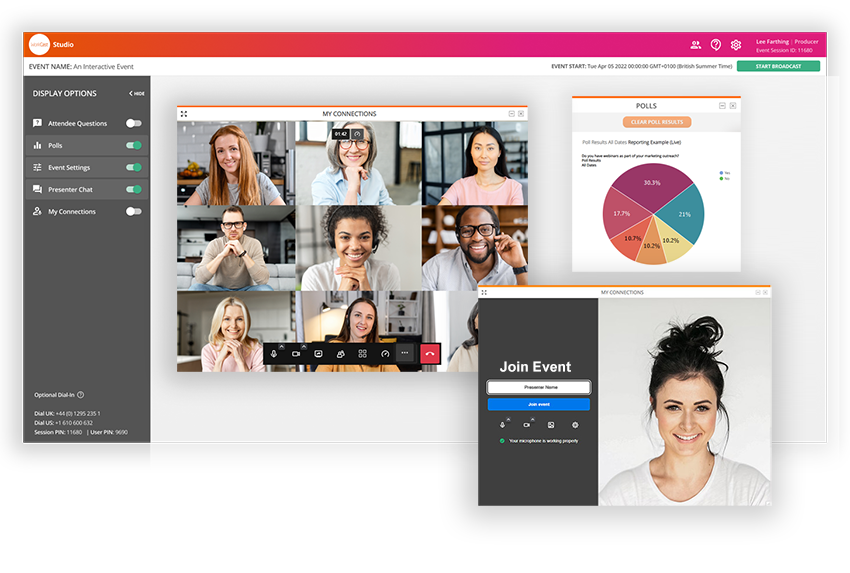 Connect and Discover: Attendee Profiles and Directory on your Virtual Events
An all-attendee directory that connects your virtual event audience and facilitates conversations.
🔎 Quickly find out who's online and ready to talk.
🏷️ Tagged moderators so your audience knows where to find help in a flash.
💬 Click any attendee and start an instant 1-2-1 video networking session.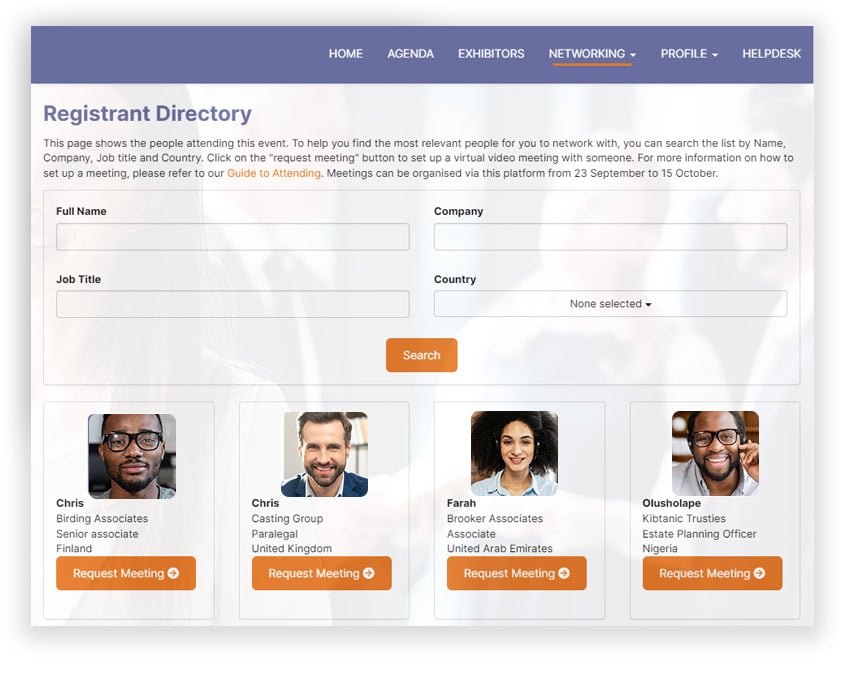 Custom Widgets to Elevate Your Webinar Experience
Discover the potential of embeddable widgets, small and innovative add-ons that can revolutionize your webinar engagement for attendees.
At WorkCast, we can integrate with a wide range of custom widgets designed to captivate your audience, boost attendee retention, drive conversions, and track performance. Embrace the following features:
👋 Seamlessly integrate your social media feeds.
📊 Elevate your polling and Q&A interactions through the likes of Slido for webinars.
🏷️ Enhance event tracking through tag management solutions.
Looking for something specific? Ask our sales team about incorporating your own bespoke event widgets.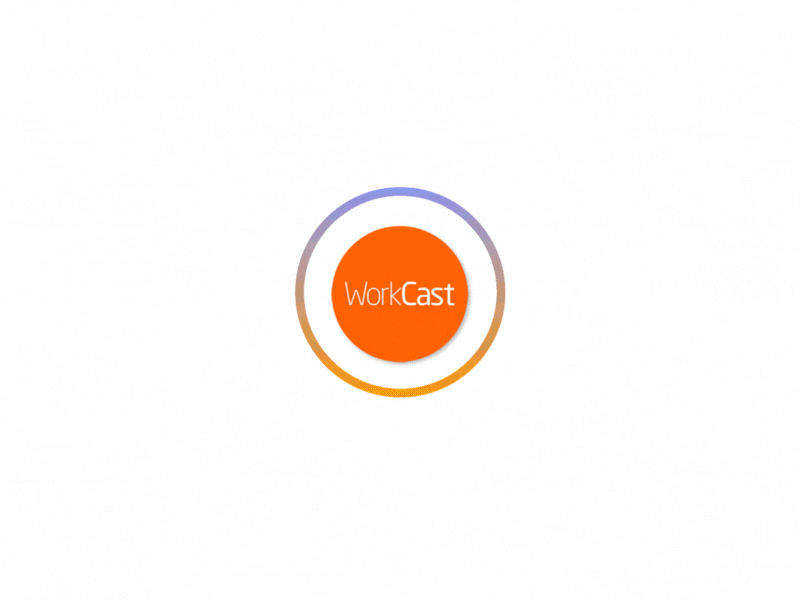 Discover our tailored online event solutions crafted to help you curate exceptional and cutting-edge events