What Exactly is a Webinar?
A webinar is a seminar taking place online, where a presenter or multiple presenters conduct a presentation over the internet. Webinars allow participants ranging from 1 to 50,000 to engage in live conversations from worldwide locations. Participants can both observe and listen to the presenter's content, which can include slides, video, webcams and audio. They are encouraged to actively engage throughout the webinar, using a range of features, such as text based Q&A, interactive polls and downloadable resources.
Reach a Global Online Audience
Did you know in that in 2023, 95% of marketers see webinars as an important part of their marketing strategy. And that 57% of marketers run up to 50 webinars each year.
Webinars offer an efficient and engaging way to share your expertise, services, training events or products, transcending geographical boundaries. With the ability to reach participants from various corners of the globe, webinars empower you to convey your message effectively, foster interaction, and drive meaningful engagement on a global scale.
Powerful Audience Engagement and Interaction
Experience unparalleled audience engagement and interaction during webinars with a dynamic array of tools. From interactive polls that capture real-time insights to lively Q&A sessions that address attendee queries, webinars can facilitate meaningful connections between attendees and presenters. Engage in real-time chat discussions with other attendees, view live captions, access valuable resource downloads, and participate in enlightening breakout rooms for focused group interactions. The best webinar features are designed to captivate and involve your audience throughout the webinar.
If Webinars Are New to You, You're Probably Curious...
Organising a Webinar
The following top tips help you to ensure you can plan and organise you're time effectively to run the best webinars:
Plan
Dedicate time to ensure you can deliver the best webinar you can.
Set a clear objective
What do you wish to achieve from the webinar.
Webinar speakers
Multiple presenters can help drive conversation and debates.
Schedule your webinar
Think about the best day and time for your audience. Tuesday to Thursday at 10am and 4pm are the most popular webinar times.
Promote your webinar
Maximise your audience, think about multiple marketing campaigns, and track your registration referrers.
Create your presentation
Think about the message, incorporate slides and mixed media such as video clips to keep the content interesting.
Rehearse
Make sure you and your presenters know the flow of the event and content, and ensure your have a stable internet connection and all know your roles.
Run the Webinar
Ensure you and your presenters are confident when speaking, and engage as much as you can with the audience.
Follow Up
Check the webinar analytics, create the on-demand webinar, and continue the promotion to new and existing registrants.
Tips to Create Effective Webinars
Quality Content
Make sure presentation slides are on brand and easy to read. Mixing up the content with video clips and panel discussions help to keep the attention of your audience.
60 Minutes or Less
94% of webinars are 60 minutes or less, as concentration will drop from attendees over this period. Start on time and structure your content.
Audience Participation
Ask questions and the opinions of your audience, ensuring they can submit any questions. Firing polls at different points of the webinar are a great way to engage.
Web-based Webinar Software
Webinar software offers a suite of invaluable advantages that power up your business strategies. Typically web-based webinar software means you can offer an easily accessible link for both presenters and participants. Webinar software can help to train both employees and customers while also leveraging CPD and CPE accreditation to ensure ongoing professional development. Beyond fostering knowledge, harness the power of webinars to effortlessly generate leads, driving sales and expanding your market reach. Web-based webinar platforms can sometimes go further with their seamless integrations with CRMs, streamlining data management and enhancing customer relationships. The advantages of web-based webinar software can save time and travel expenses.
Benefits of using WorkCast Webinar Software
Create Fully Branded Webinars in 2 Minutes
Within WorkCast Creator you can easily create a fully branded event experience for your webinar attendees. Master event templates include a registration landing page, confirmation page with joining details, confirmation and reminder emails, and a fully browser based event landing page. It's easy to add as many event features as you require. And with everything being browser based, attendees can view and watch the event on any device without needing to install software.
Fully Media Rich Webinar Presenter Studio
Within the WorkCast Studio your webinar presenters have all the tools to run and present the perfect webinar. Here they can access webcams, virtual presenter backgrounds, share presentation slides, switch between layouts, and respond and engage with audience questions and chat. And because WorkCast's webinar software is fully browser based, presenters are invited to join a web link to be able to present during a webinar.
Common Webinar Questions
We take a look at some of the most commonly asked and searched for questions about webinars.
How Does a Webinar Work?
In the realm of WorkCast webinars, an event is created within the platform, typically comprising of a registration landing page, a confirmation page, a primary event landing page, and corresponding confirmation and reminder emails. This event creation process paves the way for promoting the registration page, where potential participants can sign up to engage in the event. These events typically boast a specific start date and time for both live and simu-live webinars. Attendees find convenience in WorkCast's provision of browser-based URLs for registration and participation. Once registered, attendees gain instant access to the event and can also save the calendar link as a reminder to join at the scheduled start time
During the live webinar day, presenters access the WorkCast studio to share and deliver event content. Attendees, however, do not directly enter the WorkCast Studio; instead, they view the broadcasted presentation through a media window within the event landing page URL, which they obtained upon registration. When presenters conclude the broadcast, the video presentation ceases for attendees, who can still explore accessible content on the event landing page.
How Do I Create a Webinar?
Follow these 5 simple steps to create a branded webinar in the WorkCast webinar platform:
Log into the WorkCast Platform

. You can sign up for a free 14 day trial.
Select your branded webinar template, add your event title, description and start time.
Select the presentation type you wish to run. This can be from the following:
Interactive - Webcams, video and screen share.
Simu-live - Schedule recorded MP4 media to play at a set date and time.
Classic - Present with an uploaded PowerPoint presentation and audio only.
Live Stream - Allows you to connect a live stream webcast.
Configure your event and add as many cool features as you require.
Ready to go! Market your event and invite your presenters to join the WorkCast studio.
How to Join a Webinar?
Attendees can join a WorkCast webinar by accessing a registration URL per event, once registered they will then instantly receive the event URL to access on the event day, a calendar link reminder is also available. Reminder emails are typically scheduled to all registrants with a 24 hour and 1 hour reminder. With WorkCast webinars being browser-based, no software downloads are necessary, enabling seamless viewing across desktops, tablets, and mobile devices.
What are the Different Types of Webinars?
With the WorkCast webinar platform you can run live, on-demand, simu-live, sponsored and CPD / CPE professional development training webinars. All of the webinar types can be created and run self serve, with additional monitored and managed event services available. Premium webinar support services are great if you want to let the experts create your events, allowing you to think about the content and getting ready to present on the day of the event. With monitored services we check over the events you have created, and will be monitoring your event on the day it broadcasts live to the audience.
How to Record a Webinar?
With the WorkCast webinar platform, your live event's broadcast is automatically recorded and stored in your account. Shortly after broadcasting concludes, your live event's recording becomes available in the media tab as an MP4 file. Additionally, you have the option to transform your live event into an on-demand webinar, enhancing its accessibility. Making this transition is seamless—just two clicks update your live event page to an on-demand format, ensuring attendees can access the same event URL for both live and on-demand viewing. Moreover, you possess the capability to refine the media within your account with a top and tail option.
For those interested in recording directly within the platform to facilitate a simulive event, the process involves creating a live event and scheduling it to align with your pre-recorded preferred event time. Presenters participate as they would in a live event, without sharing registration URLs for potential participants. During the studio session, broadcasting proceeds as usual, and post-event, the media content integrates into your account. You can review the media, and even download if you wish to make edits, before linking it to your simulive event for a seamless experience.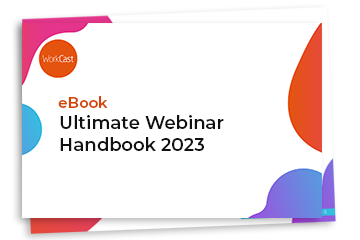 Want more useful tips on how to create amazing webinars? Download our free eBook, The Ultimate Webinar Handbook, today.