Virtual
Conference Platform from WorkCast
WorkCast's virtual conference software provides a dynamic experience for users that is like no other.

With the benefits of a powerful all-in-one virtual platform and the engagement of a conference, WorkCast makes the impossible possible.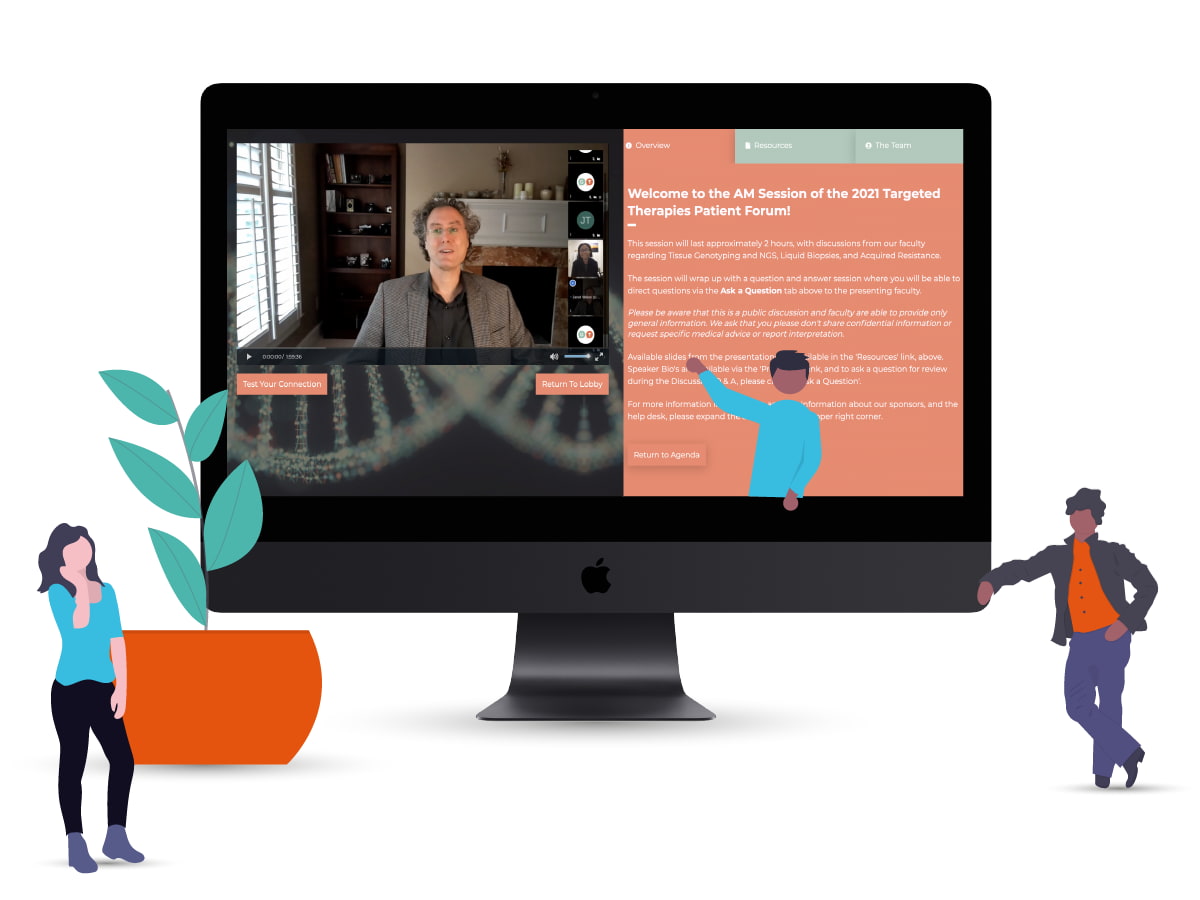 Drive Real Results with WorkCast's Virtual Conference Software
WorkCast's powerful virtual conference platform connects you to a truly global audience. It helps you and your business build valuable relationships and leave a lasting impression on your audience.
✔️All-in-one virtual platform
✔️Different layouts and themes
✔️Live, simulive, or on-demand events
✔️Integrate 3rd-party apps and APIs
✔️Thousands of attendees per event
✔️More opportunities for sponsors
✔️Cloud-based = no downloads
✔️Bring attendees together
✔️Networking and breakout capabilities
✔️Translations and captions to engage
✔️A seamless brand experience
Why use the WorkCast Virtual Conference Platform?
Virtual conferences are multi-session event experiences that immerse your audience in your content and allow them to engage with your business in a virtual environment. There are lots of reasons why your next event should be online.
But not all virtual conference software is created equal. WorkCast's platform combines must-have features with expert support to take your events to the next level.
🤝 Networking Opportunities: Virtual conference booths help sponsors and exhibitors to connect directly with attendees and convert them into qualified opportunities.
💬 Face-to-Face Interaction: Virtual conference video breakout rooms allow attendees to network and build connections with each other.
🏆 Engagement Galore: Drive audience engagement and satisfaction with polls, quizzes, and Q&As.
🙌 Seamless Audience Experience: Optimized event experiences mean attendees won't have any trouble finding what they're looking for.
📚 Resources at Your Fingertips: Gain access to comprehensive platform training, resources, and a team of event experts.
⛵ Get Onboard Fast: Comprehensive onboarding so you can start your event off right.
💁 Virtual Conference Planner: Your own virtual conference planner will help you set clear timelines and deliverables to keep your event on track.
😄 Dedicated Support: Event day support with experienced virtual event coordinators monitoring every session & a post-event review to make your next event even better.
📊 Data Delivered to Your Doorstep: Collect and measure feedback and engagement with detailed analytics.
🕵️Detailed Insight and Understanding: Capture a multi-dimensional view of your attendees, their interests, their touchpoints, and their virtual conference activity.
🏃 Relevant and Actionable Data: Real-time data tracks your virtual conference KPIs. Measure your success as it's happening. Understand the overall success of the event to make your next virtual conference even better.
💰 Personalized Sales Communication: Maximize your ROI with data that allows you to personalize sales engagement and post-event follow-up.
🎨 Create Custom Sponsorship Packages: Custom sponsorship packages will help generate more revenue, including high-traffic exhibitor booths, sponsored speaker sessions, and virtual conference branding opportunities.
⭐ Premium Sponsorship Options: Build premium virtual conference sponsorship options and add a little bit extra. Utilize WorkCast's virtual conference platform to build something special for your favorite sponsors.
📈 Provide Value: Customized data for each and every sponsor means they know who interacted with their content.
🔗 Third-Party Integration: Easily add third-party applications that work with WorkCast's virtual conference platform and create enjoyable and engagement-rich audience interaction.
🖥️ CRM Software: Plug your audience data directly into your CRM. The WorkCast Virtual Conference platform works with HubSpot, Pardot, Salesforce, and more.
👩‍💻 WorkCast's Virtual Conference APIs: WorkCast's APIs for registration and reporting make it easy for developers to integrate almost any tool.
🗄️ Organization & Administration: Effectively promote your event with our specialized registration tools, automated email workflows, agenda builders, and attendee to attendee meeting schedules.
Learn more about Virtual Conferences and Events
You're In Safe Hands
We've been around a while and we know what's important to you. We can prove it, too. Read our case studies.
"On meeting WorkCast for the first time, it was clear that they are a company that puts their clients first, and this has been proved to be the case while working with them for the past 6 months. Their solution met all of our requirements for a virtual event platform and the user interface is clear and attractive."
"I love the fact that you're in front of your screen and it actually feels like you're walking into a conference hall. So you really get that conference feeling. And the team itself was beyond phenomenal to assist me in everything I needed to do... they knew exactly what I needed and wanted and could do that for me."
Get in touch today.
Find out how WorkCast can make your next virtual conference or event a reality.