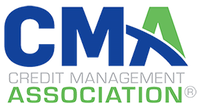 CMA's CreditScape Virtual Conference: 58%+ Conversion Rate
CMA needed to find new ways to connect with its members and maintain its presence amongst financial experts.
CMA transitioned their CreditScape Conference to virtual with WorkCast's project-managed virtual events
10+
Sessions
CMA's CreditScape Conference featured sessions from finance industry executives and experts.
58%
Conversion Rate
Almost sixty percent of registrants attended the CreditScape Conference live, others engaged with on-demand content.
6
Sponsor Booths
CMA's virtual event attracted industry-leading sponsors like Equifax and the Creditors Adjustment Bureau.
CMA delivered an engaging virtual conference for attendees and sponsors
Prior to 2020, CMA had focused on in-person events and webinars to share educational content with credit professionals and CMA members.

However, as the COVID-19 pandemic brought everything to a standstill, CMA needed to find another way to connect with its members and maintain its presence amongst financial experts.

So CMA started investigating the potential of running their CreditScape Conference as a virtual event.
The Challenge
There were three main challenges CMA faced when moving their conference online.
Firstly, they had never run a virtual event before, meaning they were starting from scratch. This meant that the level of support and guidance that could be provided by any platform they chose was extremely important.
Secondly, there was the challenge of ensuring that they could get buy-in from their sponsors for a virtual event and being confident they would see a positive ROI for both their time and money.
Finally, CMA had to consider how in-person engagement levels would be maintained or exceeded in a virtual environment.
The Goal
Audience participation was the number one goal. CMA wanted to utilize engagement tools and design to keep audiences engaged, but also track and report on audience participation.
Sponsor satisfaction was also a key goal. Sponsors are a large part of CMA events and it was important that they could replicate the traditional in-person networking within a virtual space and show the ROI.
How WorkCast Helped
Virtual Sponsor Booths
CMA utilized WorkCast's virtual sponsor booths to allow their sponsors to engage with attendees within the virtual event. This included taking advantage of fully branded templates with the option to add videos, downloads, and links to external resources. The booths also included the attendee chat function, allowing sponsors to interact with users and answer any questions. To show the sponsors the performance of their booths and content, each booth had its own unique reporting dashboard.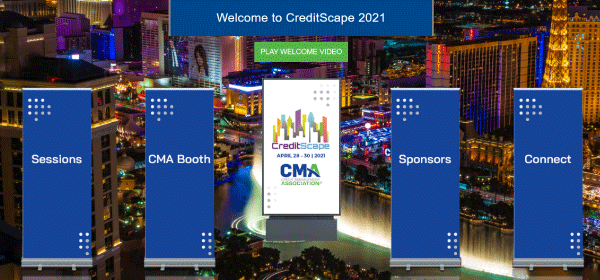 Gamification to increase virtual event engagement
With one of CMA's goals being participation, we helped them gamify the attendee experience by creating an attendee leaderboard. Attendees were set the challenge of engaging with the virtual conference as much as possible so they could get the most out of the event. This included things like attendee chat, downloads, answering polls etc. The more an attendee interacted with the experience, the more points they earned. At the end of the event, the three attendees with the most participation points won gift cards.
Fully branded virtual event templates
Meeting sponsor needs was one of CMA's core goals, so WorkCast provided templates that could be fully branded. Additionally, the whole of the CreditScape event was created with CMA's branding, pulling in their Las Vegas roots.
Complete event support
WorkCast provided support pre-event, during, and post-event to ensure CMA's virtual event ran smoothly. From helping make their ideas a reality, building the event, providing technical support on the day, and follow-up event care. WorkCast also provided support to the sponsors and speakers to ensure they felt confident.
Detailed virtual event reporting
WorkCast's reporting dashboards enabled CMA to track and report on the performance of each element of CreditScape. From the number of registrations, to how many attended live and what resources were interacted with, the robust analytics provided them with a full view of attendee engagement and a higher level they would have gotten at an in-person event.
The Result
CMA was able to deliver a successful virtual conference, CreditScape, and garnered positive feedback from both attendees and sponsors.
Ann Westpy, Head Director of Education and Events at CMA, said "I love the fact that you could be sitting in front of your screen and you literally feel like you're walking into a conference hall. So you really get that conference feeling. And the team itself was beyond phenomenal to assist me in everything I needed to do...they knew exactly what I needed and wanted and could do that for me".
About CMA and CreditScape
CMA is a not-for-profit association helping business-to-business companies make fast, accurate credit decisions.
CreditScape is CMA's annual conference. CreditScape is a unique opportunity for attendees to interact with other credit professionals through peer-to-peer networking, experiencing expert panelists, and learning from other credit practitioners of many different levels.
While CreditScape features subject-matter experts sharing their experiences with credit practitioners, much of the learning at CreditScape comes from practitioners sharing real-world experiences with each other through workshop-style settings.
Learn About Project-Managed Virtual Events
WorkCast has dedicated teams of online event project managers around the world. Learn how they can help your business create your best ever webinars, webcasts, hybrid, and virtual events.
Learn About Project-Managed Virtual Events
"WorkCast, in the short time I worked with them, was able to meet every need of this conference and be more than just a helpdesk. They were part of our team. Not just their team and our team, we kind of collaborated to be a team to make this a success for the attendees and the staff."
Ann Westpy
Head Director of Education and Events, CMA