Wiley's Webinars: Attendees From 70+ Countries
Wiley is a highly-respected industry name in the world of academic publishing. Discover Wiley's journey with WorkCast.
Wiley connected with a global audience using on-demand webinars from WorkCast
10
Years
Wiley Publishing and WorkCast have been working together for a decade.
100k+
Global Attendees
Wiley has connected with over 100,000 attendees throughout their time producing webinars with WorkCast.
71+
Countries
Wiley has reached attendees from around the globe with webinars powered by WorkCast.
Wiley's ambition was to use webinars to attract a worldwide audience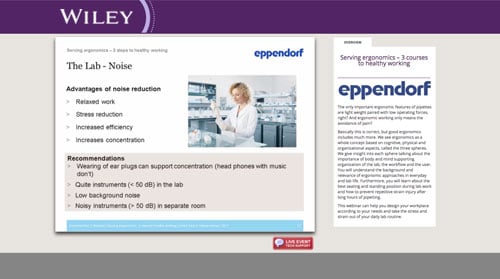 Wiley's ambition was to use WorkCast's live and on-demand webinars to attract a worldwide audience and become a source of revenue for the company through sponsorship opportunities.
The Challenge
Wiley's webinars needed to be easily accessible to a global audience to allow them to establish more of a presence in difficult-to-reach markets. Therefore, communication between audiences, speakers, and sponsors was essential for Wiley, as sponsorship was the main source of revenue from these online events.
The Goal
Provide a premium webinar platform that offers live, on-demand and virtual event opportunities.
An easy-to-access webinar, with no downloads, no plugins and no barriers necessary.
Communication and interaction between speakers, attendees and sponsors.
Maximize revenue by gaining webinar sponsorship opportunities.
How WorkCast Helped
Using the WorkCast platform, Wiley was able to create interactive webinars that were easily accessed by a global audience with no barriers, no download or plugins. Using the on-demand and Simulive functionality there were no restraints due to time difference, which allowed them to attract worldwide audiences, thus, increasing their attendance rates.
Despite the content being free for attendees, it was the analytics and insights gathered from the webinar that provided value for sponsors. These sponsors were able to gain useful data on registrants, attendees, and their contact information.
Communication between the sponsors and attendees was paramount, so utilizing the WorkCast platform, Wiley provided multiple ways for sponsors to interact with registrants. This included asking registrants questions, interactive polls, Q&A, resource materials and redirect links.
Many of the webinars included video footage showcasing research and WorkCast's platform allowed Wiley to seamlessly embed video within the presentation and stream it to any device.
The Result
Wiley Publishing's webinar strategy proved a success, as they were able to attract attendees from over 70 countries worldwide, who historically couldn't attend live events.
By utilizing the on-demand functionality of WorkCast's platform, Wiley was able to truly have a global reach.
About Wiley
John Wiley & Sons, Inc., commonly known as Wiley, is an American multinational publishing company founded in 1807 that focuses on academic publishing and instructional materials.
They produce books, journals, and encyclopedias, in print and electronically, as well as online products and services, training materials, and educational materials for undergraduate, graduate, and continuing education students.
Learn About Webinars
We've been building, producing, and running webinars in all forms for over a decade. See how we can help.
Learn About Webinars
"WorkCast has worked with Wiley's UK and German offices for a number of years. Establishing a strong relationship, Wiley has, as a whole, started running their entire webinar strategy through WorkCast."