This eBook is for you if you are already creating webinars, recently started to create them or you are just considering running webinars.
Reading this eBook will help you create, plan, promote and deliver successful webinars that can be used on all the stages of your Marketing Funnel.
Download the eBook and learn about:
How to plan your webinar
How to create and design your webinar to increase engagement
How to target your audience
How to promote your webinar
How to make the most out of your on-demand webinar
How to measure success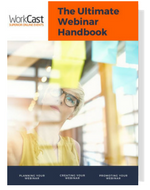 Complete the form on the right and get your Free copy today!