When it comes to webinars, we all place a lot of emphasis on the planning and content. After all, your webinar isn't going to be much with killer content, great speakers, and a well-planned promotional strategy.

But what about the audience? We can sometimes lose sight of the fact that any webinar or webinar programme is about them - informing them, engaging them, and making sure they've had a really great experience.

To truly connect with your audience and ensure they don't hit drift off halfway through your meticulously planned webinar, you need to make your webinars more interactive.

Why?

The more engaged your audience is, the more they'll take away from your presentation and they'll be a much warmer lead. Simple as that. Without audience interaction, you're really just talking at your audience.
Building an online event with interactivity as a key focus will make your event stand out, not only making the attendees happy, but attendees will become those warm marketing leads that your sales teams love (and they will be more likely to recommend any future events of yours to other like-minded individuals - it's a win-win).

Think of interactive webinars as a TV series. Entertain and inform people so they have a reason to tune-in to the next episode.

So how can you do that? We have a few ideas to get you started.
1. Q&A
This is the most common way to interact directly with your audience.

Q&A sessions are essential when it comes to running online events like webinars. Without them, a presentation can feel very one sided, and audiences will log off - fast. You might as well forget about conducting the webinar and simply email the slides across to everyone.

Providing your attendees the opportunity to submit live questions gives them a voice and the drive to connect with you.
Ensure you plan the Q&A beforehand. Question yourself about how you'd like the session to go:
How much time would you like to allocate to it?
How many questions can realistically be answered during that time?
Is there a backup plan in case little or no questions are submitted?
All of these questions will be influenced by your audience, content and speakers. So consider these variables before you make any concrete plans.

One thing to make certain that you do, is to inform the audience prior to the start of your event that there is a Q&A session planned. Let them know how questions can be submitted and how/when they will be answered. Giving viewers a heads-up about the session, rather than springing it on them at the last minute, will allow them some time to actually think of questions to ask.

Having an interactive Q&A session is a particularly valuable addition if you have guest speakers. Even better if those speakers happen to be well-respected names within their particular field or industry. It can be exciting for viewers to receive the opportunity to quiz someone who is an influential name to them.
2. Live Chat
This is a slightly more informal extension of the Q&A format.

Live Chat takes audience interactivity to the next level. It provides the opportunity for both attendees and speakers to, well, just have a blether really. Much like Facebook messenger (or MSN messenger for us old millennials), the Live Chat function is really useful for short, snappy messages.

While Q&A sessions usually take place at the finale of a webinar, Live Chat is designed to facilitate messaging throughout. Informal chatter is commonplace at any face-to-face meeting when there are a number of people in the room together, Live Chat is the digital way to encourage just that.

In many circumstances, Live Chat is an effective way of promoting dialogue about the webinar topic itself among the audience. If they're discussing the content you're talking about between themselves, it's a good sign that attendees are engaged with your content.

How you moderate the Live Chat is entirely up to you. Sometimes, speakers will respond to messages sent to them directly, others will simply allow debate among audience members without injecting themselves into the conversation.

Live Chat fosters the creation of almost a 'mini-community' among audience members and creating this type of community increases the chances of interactions between audience members as people become more comfortable with others around them who are attending. They'll also be more likely to get involved with any debates or Q&A sessions that occur during your webinar.
| READ MORE: Learn 7 ways to increase webinar engagement
Polls
What better way to gather attendees opinions and give everyone the chance to contribute (I mean, who doesn't love sharing their opinion)?
Polls are a brilliant way of getting live feedback from those in attendance. Generally, you'll find that if people don't have a specific question to ask on a particular topic, they're unlikely to contribute anything to the presentation, leaving them disengaged. Targeting them with specific questions in a poll format, encourages them to become involved and respond.

Polls can set-timed to pop-up on viewers screens at different intervals during your presentation, meaning you can focus on presenting. You can set poll questions to be either optional or compulsory to answer. A particularly useful tip is to set them as compulsory, so viewers have to answer in order to view the rest of the webinar, guaranteeing you'll get measurable results and opinions.

The number of polls you decide to include depends entirely on the type of webinar you're running. Here are three ways they can be used: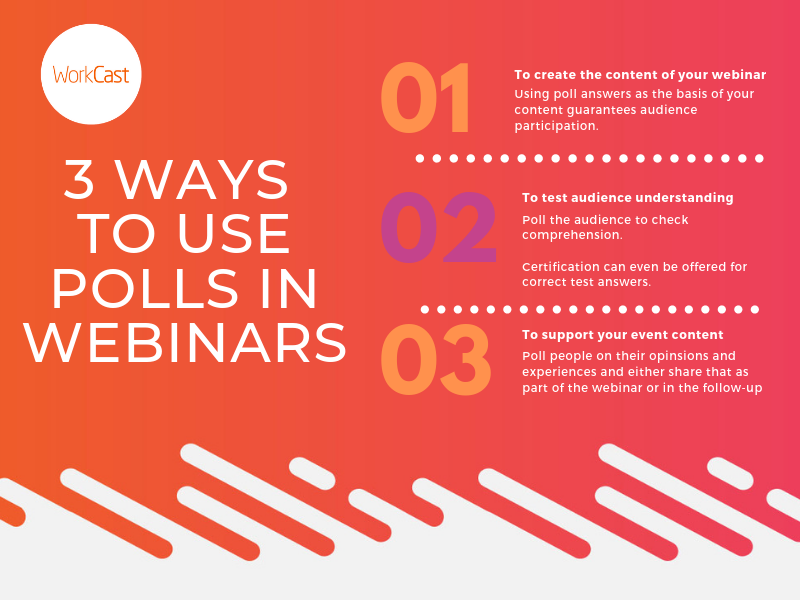 A great use case we saw was from a customer that included six poll questions at the beginning of a webinar. Each poll was compulsory to answer. Once all the responses had been collected, the results became the basis of the material discussed during the webinar. In other words, the poll results became the content.

How? A roundtable of presenters discussed the findings, extrapolating what they might mean for the chosen topic. Thus, all attendees contributed directly to the event - without them, there would have been no webinar. Empowering your audience in this manner guarantees interaction.
3. Debate & Dialogue
Challenge the audience.

Their role in your webinar shouldn't be passive, sitting there and listening quietly while the speaker runs through a prepared script. Question them directly about what is being asked:


Do you have a different stance on this?
What would your reaction be in this situation?
Why should that be the case?
Creating debate is one of the most, if not the most effective way of connecting with your audience on this list. In some cases, it can have the most long-term benefits too.

How can you do this? Your live chat or ask a question functions are great ways to do this. IT may be called ask a question, but that doesn't mean an attendee can't answer a question that way as well. You can have a moderator read out any relevant comments or observations, spurring on debate while still controlling the flow of communication.

Plus, people are more likely to participate in this type of communication when it's via a written chat, meaning you can get some really thought provoking responses. A two-way dialogue between viewers helps encourage creativity, critical thinking, new ideas, problem solving etc. The possibilities of what can be discovered are endless.

Consider this: If attendees come away from your webinar, having enjoyed the exchanges that took place, they're more likely to mention the webinar (and your company) when speaking with colleagues and contacts.

Imagine the leads generated from word of mouth alone. That kind of promotion is priceless and, importantly, doesn't cost you anything to produce.
4. Visual Content
PowerPoint slides full of bullet points, jammed with text, and nothing else are not good enough anymore.
You have to impress people with how to a webinar looks, as well as having killer content. Viewers want to attend an exciting, vibrant presentation, not to be held at ransom for an hour by a bullet point list they could have just Googled. Adding visual content, though not strictly an interactive aspect, still engages the audience and keeps them visually entertained.

Consider visual content as a supporting player to the other interactive features. Keeping the audience interested with visual aids, alongside including polls and Q&A's, increases the chances of them learning from your presentation.

Embedded videos, images accompanying text (and vice versa), differing colour schemes. All simple, yet hugely effective ways of keeping everyone on their toes. Adding a different dimension to what you're saying and mixing things up a bit will keep people alert, and will also give your speakers more to interact with.

Visual items such as infographics are also fantastic. They help viewers digest the information you're putting across in a more interesting way.