Conferences are a fact of life for most businesses. They present great opportunities to hear from industry leaders, get your brand in front of new prospects, and of course, participate in some social networking (wine optional).
Traditionally, conferences are held in either a large corporate conference centre or some sort of hotel ballroom. However, more and more businesses are now opting to hold their conferences online.
What is a Virtual Conference
Before getting into why you should host your conference online, let's go over the definition of a virtual conference:
A virtual conference is an online event that includes a series of large sessions run by thought leaders in the industry who present to and interact with attendees. It does this by replicating a traditional conference in a virtual environment - there is normally a virtual lobby where attendees can choose sessions and streams to "attend." There are also opportunities to feature sponsors - from logos to full virtual sponsor "booths" - where they can include promotional material and interact with attendees.
Despite being hosted online, virtual conferences replicate the in-person engagement conferences often facilitate through the use of interactive features such as polls, live chat, Q&A, surveys, and more.
→ Explore Virtual Conferences With WorkCast
Why Host an Online Conference?
Now that we know the what, you probably want to know the why? The benefits of running your conference online are immense, but we've boiled it down to the top five reasons we think your next conference should be virtual:
1. Expand your reach
Physical events are great for networking and socializing, but they can severely limit your potential attendee pool.

By hosting your conference in a physical space, you're limited to a certain number of attendees (usually from a few hundred to a few thousand depending on the venue). This also restricts anyone who isn't in the geographic vicinity and doesn't have the time or budget to travel from attending. So, if you're hosting your event in San Francisco, the odds are most of your attendees will be local, or at the very least, on the West Coast.
With virtual conferences, you don't run into any of those issues. Depending on your platform, virtual conferences can host up to 50,000 attendees per event and these attendees are not limited to your local catchment. You can get your content in front of a truly global audience. Really, anyone with a device that connects to the internet can attend.
Bonus: This expanded reach also applies to your speakers. This gives you a lot more flexibility in terms of who you can feature - really expanding the appeal of your conference.


2. You're not at the whim of external factors

Have you ever been planning a physical conference and then, all of a sudden, there is a major storm predicted? Or, a global pandemic (SARS, MERS, coronavirus just to name a few)? What do you do? Cancel? Postpone? Those are all costly options.
Virtual conferences are not beholden to the physical elements. No weather delays or cancellations, so long as you have a solid internet connection, you can run your conference. This can be a game changer in terms of planning your conference. For example, you don't have to worry about hosting an event in New York in February for fear of a snowstorm causing issues.
3. Access in-depth reporting on attendees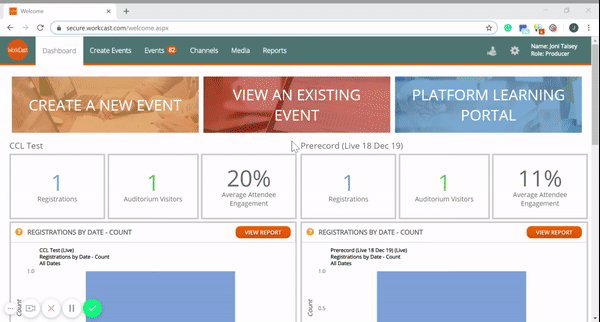 One element that physical conference organizers find difficult is gauging how engaging your content is. While it's relatively easy - though expensive - to see how many attendees each session attracted, it's only possible if you're willing to shell out for a badge scanner (and that's assuming staff are available and diligent in scanning everyone in). However, it's more difficult to determine how many questions were asked, how many people left early and when, and how many people engaged with other resources like brochures, which is where virtual conferences come in.
With virtual conferences, all of that information is at your fingertips. You can see exactly who attended, for how long, how engaged they were, and what sponsored content they interacted with. You can even keep track of what questions were asked, which can be helpful when creating content for your next event.
This also makes it really easy to pinpoint your warmest leads, which is information your sponsors and sales teams would probably find very useful in their post-event follow up communications.
4. They provide evergreen content opportunities
A great thing about conferences is the fantastic content that is being shared, specifically from the expertly curated speakers. But, unless you're recording each and every session, which can be very costly, once it's presented at your event, that content is essentially lost forever.
Virtual conferences, on the other hand, provide an evergreen opportunity for this content. Most online events platforms provide the option of recording live presentations, and you can even pre-record the content. This means you can reuse your content across your channels. You can turn the recordings into short chunks for channels such as social or YouTube. Or turn the best presentations into on-demand or simulive webinars to expand your audience. The options are practically limitless. (Check out our recent webinar for some great tips on how you can extend the life of your online event content).
5. Save money
Conferences are expensive. That's just a fact. There are a lot of expenses to account for beyond just the venue hire as well - such as food and drink for attendees, room and board for speakers, insurance, technology, and more. And let's not forget the expense to attendees. Even if your conference is free, they still have to travel to and from the venue, feed themselves, and maybe even pay for accommodation. It's not a cheap endeavour.
Virtual events are much more cost-effective. I'll be honest with you, running a conference virtually isn't cheap, especially if you choose a platform that provides you with custom options and hands-on support (shameless plug for WorkCast here). But, what you're paying for the platform is essentially the only cost you'll have to worry about. No need to price out the cheapest travel for you speaker flying in from London, or having to opt for the more expensive caterer because they're the only ones with vegan options.
Bonus: By saving money on the price of the virtual 'venue' hire, you can spend more of your budget on promotion, drastically increasing your ROI.
But, how?
"Okay, but how do I actually run a virtual conference?" you might ask. Here's how to get started:
Decide on your event format first. There are a number of ways to run an online conference, so you'll want to ensure you make this decision as early as possible so you can plan accordingly. They are:
Choose your platform: Not all virtual event platforms are created equal, so make sure your chosen platform can actually support the type of event you want to run. We've seen a lot of people come to us, for example, because they want to run Simulive event with a live Q&A and their platform can't accommodate that.
Decide on a time and date: While you won't have to take into account weather and other physical factors, you'll want to ensure you run your event at the best time for your audience.
Put together a schedule: You may not be able to do this until you have all of your speakers booked, but putting together a draft agenda or schedule will help your attendees plan their own schedule. And, don't forget to include breaks! Just because it's a virtual conference doesn't mean your audience doesn't need some tea breaks.
Choose your speakers: Just like with a physical conference, this is an important aspect of your virtual event. Your speakers will need to appeal to your audience and also be free on the day of the conference.
Promote, promote, promote: As soon as your registration link is live you can start promoting your virtual conference. While it will be fairly similar to promoting a physical conference, focus mainly on your digital channels.
Practice: Make sure any presenters practice, even if they're pre-recording. You don't want to waste your precious time rerecording a hundred times. Practice makes perfect!
Follow up: Once everything is done and dusted, don't' forget to follow-up with attendees. You'll want to keep them warm and interested for next year's virtual conference.
Best Virtual Conference Tips
Now that you're all ready to move your conference online, here are some expert tips to keep in mind as you go through the process:

Plan it like it's a physical event. Create a project outline with SMART objectives and track those goals (I love a GANTT chart!). This will keep you on track and ensure you don't get lost in a sea of PowerPoint and webcam pre-records.

Have a backup plan. While you won't have to worry about a storm knocking you off track, you will have to account for human error. Namely, presenter no-shows. Know what you're going to do in the event someone doesn't show up.

Consider a mix of channels. If you don't want to take your conference completely online, streaming it to online attendees is a great way to extend reach while still getting that physical event feel. CBI's annual conference

is a great example of this. The conference is their flagship event and they didn't want to completely take away the physical element,so to expand their reach, they live-stream the conference online.


Virtual conferences don't have to be large scale. When we think of conferences, we think of annual events with thousands of people, hundreds of sessions, and a lot of planning. However, we work with a number of customers, who run smaller-scale virtual conferences to expand their reach and connect with their audience. For example, MEED turned to a regular webcast series to deliver content directly from editors to the subscription base.