With growing uncertainty and government-enforced lockdowns to contain coronavirus (COVID-19) forcing an increased number of people to work from home, this means that more and more people are having to transition their physical events to online events, like webinars.

So, how do you host a webinar at home? We have compiled a comprehensive list of everything you need to successfully run a webinar while working from home - no high-tech equipment necessary, just some good old fashioned insider tips and tricks.

But, before we get into the nitty gritty, let's go over some webinar basics...
Webinar Basics
Webinars are defined as online seminars that allow you, or a presenter, to connect with your audience and share information online.
Webinars are hosted live, on-demand or as Simulive (simulated live) events and use a combination of assets, such as PowerPoint slides, webcams, a screenshare, pre-recorded MP4s and accompanying audio.
The purpose of a webinar is to generate leads, build your brand, establish yourself as a thought leader and to educate new and existing customers.
The benefits of webinars are: increase your engagement, boost your lead generation and create awesome brand experiences
The optimum length of a webinar

is between

30-60 minutes

. However, over 55% of all webinars hosted on WorkCast clock in at 60 minutes.

The best days to host a webinar

are the 'Big Three' aka

Tuesday, Wednesday and Thursday.

Where to host a webinar
People often ask: "Where should I host my webinar?" The answer is pretty simple: wherever you have good access to the internet and a quiet place to record your webinar. As long as you don't have any distractions or interruptions, you can effectively host your webinar, so this means that you could just as easily host it from home as you would from your office or a professional recording studio.
Just like if you were to record music, you should consider the "room sound" when recording your webinar at home. When you record something with a microphone, your voice is not the only thing that's being picked up, as the sound takes a trip around the room, bouncing off the walls and anything else in the space. This is how the "sound" of your room makes it into your recordings.
So, which room in the house is the best for hosting and recording my webinar? Well, in this case, we would always recommend either the bedroom or the living room. The bedroom is always the first choice for sound recording, as they are often smaller rooms and the mattress, pillows and carpet often help to absorb some of the sound, so it won't echo as much as it would, say, in the bathroom.
Likewise, living rooms may share some sonic similarities to bedrooms, but they typically offer more space to record, so presenters will feel more comfortable - especially with multiple speakers present.
What equipment do I need for a webinar?
When it comes to running a professional-quality webinar, there are three main pieces of webinar equipment that you'll need in your artillery:
Quality headset with an adjustable mic
HD Webcam
Martech webinar platform, like WorkCast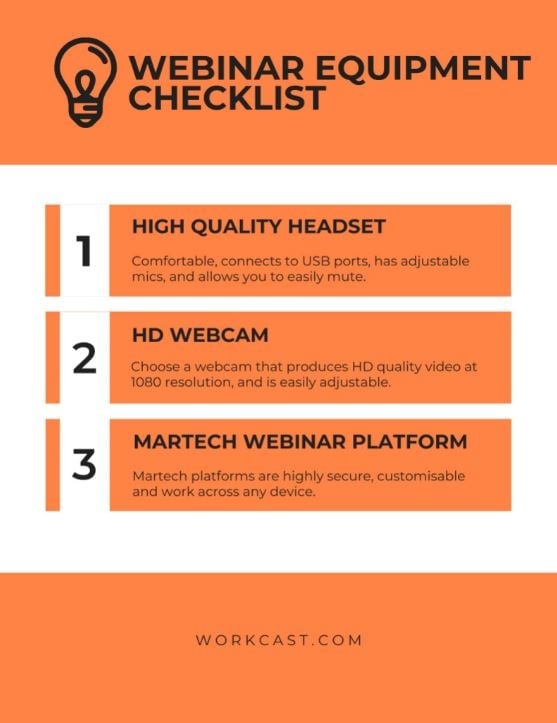 For more in-depth information about what equipment to buy for your webinar, you can head to our blog post where we recommend different options to suit every budget.
How to dress for a webinar
This may seem obvious, but it's a commonly asked question here at WorkCast. And, while most of you are working from home at the moment, we do strongly advise that you swap your lounge-wear and fluffy robe for something more business casual, like a button down shirt or sweater.
Unless you're working for a government organisation, you probably won't need to don your usual suit for your webinar, so we always recommend to dress professionally if you're going to be using your webcam at any point. After all, webinars are a tool for thought leadership, so you want to dress the part and no one is going to take a presenter seriously if they're wearing their Disney pajamas.
I'm sure you've all heard the recent story about the boss who turned herself into a potato during her video conference call. Case closed.
How to host a webinar?
Now you're up to speed on all of the webinar basics and essentials, we can explain how to conduct your webinar.
Despite common misconceptions, webinars are quite straightforward to run. In fact, you can plan, promote and implement your own webinar in these 10 steps:
Choose your organizer, presenter, moderator and guest speakers
Select your webinar format i.e. presentation, discussion, Q&A, etc
Design your presentation slides, assets and video for your webinar
Select your webinar platform, like WorkCast Stratus
Set up your webinar presentation in the right environment with suitable equipment
Choose the best day and time to run your webinar for maximum attendance
Select your topic and create engaging content to captivate your audience
Promote your webinar 6 weeks out using email marketing, social media, landing pages and website banners
Practice, practice, practice - do several dry runs
Follow up with your audience post-webinar and send them a follow-up email with a link to the recorded webinar to extend its shelf life
If you're asking: "
Yes, but how do you host a webinar at home?
" Well, you can follow the same 10 steps. The only difference is that you will be hosting your event remotely, so you will need to
coordinate with your team online
during the preparation times. You can easily do this using free meeting tools, such as
Google Hangouts
, while you're in the pre-production stage and then utilize presenter breakout rooms within your webinar platform during your dry runs and webinar broadcast to ensure the event runs smoothly.
FAQs
Q: Do I have to use my webcam if I'm presenting?
A: No, you don't have to use your webcam if you're presenting a webinar. Using your webcam is a great way to break down physical barriers and interact with attendees, but if you don't feel comfortable or want to conduct your webinar in your sweatpants then you can present without using your webcam.
Q: How do I host a webinar on Google Hangout?
A: Although Google Hangout is an effective online meeting tool, we would always recommend using a dedicated webinar platform to host your webinar, as they are equipped with all the specialized features to encourage interaction and engagement. Just like you wouldn't use YouTube to host a virtual event, it's important to choose the right platform for your project needs.
However, this doesn't mean that you can't use Google Hangout as part of your webinar strategy. If you're working from home, Hangouts is a great way to liaise with your team and coordinate your tasks prior to your broadcast.
Q: How do I host webinar for free?
A: If you're looking to host a webinar for free, WorkCast offer a 14-day free trial of our webinar platform - much like many other providers. That way you can create your own free webinar event and see if the platform is right for you and your needs. However, free trials don't offer premium support or customization, so this is something to always keep in mind when signing up for free options.
Q: Can I record my webinar on a computer or Mac?
A: Yes, when you broadcast your webinar on our platform your event is automatically recorded, so you can share the link to your on-demand, or recorded, webinar with attendees after the broadcast. It doesn't matter if you're using a PC, Mac or laptop, your webinar will be recorded all the same in our platform.
However, if you're looking to record a webinar you're viewing as an attendee, then you can either reach out to the presenter for the on-demand version after the initial broadcast, or you can use free screen recording tools, like SnagIt, to record the webinar on your computer.
⟶ Read more Frequently Asked Questions
Now you know the who, what, why and how of hosting webinars at home you can make the most of working from home and transition your in-person events to online events. Now, more than ever, is the time to connect with people and build online communities, so webinars are the ideal way to do this safely and effectively.