Explaining the difference between webinar platforms and meeting tools can be likened to comparing a seminar to a board meeting. Quite different, right?
Webinar platforms are purpose-built for hosting webinars, or online seminars, which allow presenters to connect with large audiences and share information online. Whereas, meeting tools are designed for small gatherings of people and allow teams to plan, organize and run meetings in a virtual environment.
We've all heard of Google Hangouts, Skype and Zoom - these are all video meeting tools that allow you to run meetings virtually. And now, with the COVID-19 pandemic, we are having to rely on video conferencing platforms more than ever to run meetings with colleagues, give presentations, share thought leadership, run training, conduct seminars, conferences, check in with loved ones and in some cases, even go on first dates.
⟶ Running Webinars During COVID-19: Everything You Need to Know
So, with the world around us constantly changing and more and more people turning to video conferencing solutions, it's essential that you can decipher the difference between a webinar and a meeting tool. That way, you can choose the right platform for your needs and maximize your results. You wouldn't host an intimate meeting in a concert hall, or a conference in a meeting room, and the same holds true for your online events. You need to find the right venue - or software, in this case.
The best way to decide whether you require a webinar platform or a meeting tool is to understand their use cases, so you can make an informed decision and avoid finding yourself in a square-peg-round-hole scenario. As it's often said:
One size does not fit all when it comes to online events.

- WorkCast, 2020.
Webinar Use Cases
Webinars are powerful tools for marketers due to their many benefits, which include lead generation, audience engagement and experience and branding. Some of the main use cases for webinars include:
Lead generation: 73% of B2B marketers agree that webinars are the best way to generate high-quality leads, so they are the ideal tool if you are looking to power your lead generation strategy. Attendees must sign up for your webinar using a registration form and you are also able to gather audience engagement insights throughout the event.
Training & Continuing Professional Development (CPD): 70% webinars are run for training purposes, which comes as no surprise, as the interactive nature of webinars creates the perfect environment for training. You can utilise interactive features, such as graded polls, and even built-in tests and assessments for attendees.
Audience engagement: webinars are specially designed to facilitate direct interaction between presenters and the audience through unique features, such as live polls, chat, surveys and Q&A - which is why they are suitable for increasing customer engagement.
Thought leadership: webinars provide the ideal platform for thought leadership, as presenters can share their expertise with attendees into the thousands and boost their credibility on a global scale.
Product launches: 72% of customers would rather learn about a product or service by video, which is why brands are increasingly using webinars to launch their products and enable customers to better envision the product.
Corporate communications

: webinars are a cost-effective way to ensure that all business critical

information

is shared with the right stakeholders and is the platform of choice for many enterprises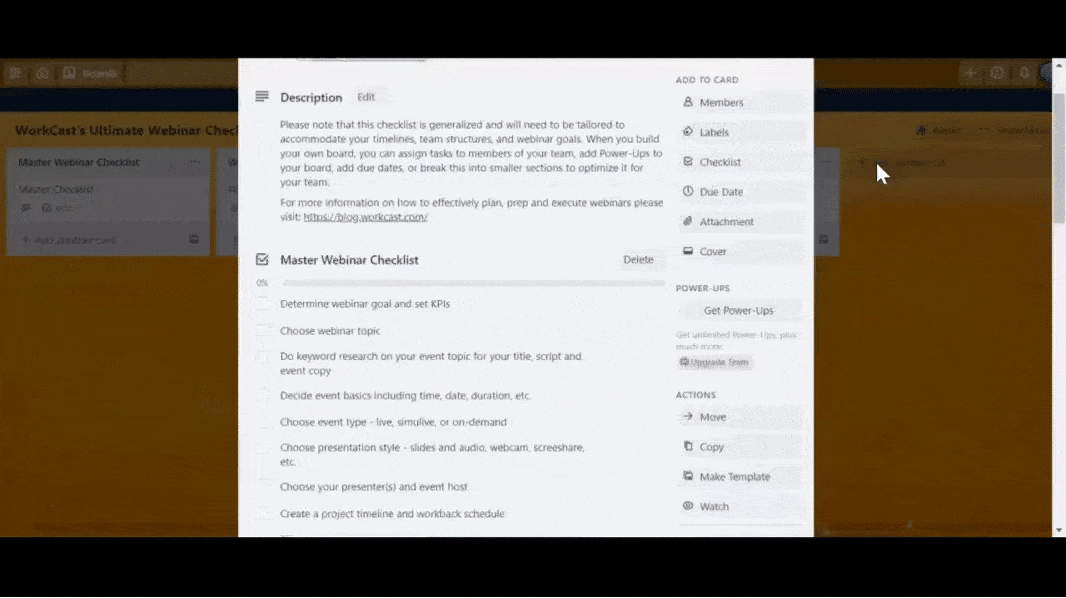 Meeting Tool Use Cases
It may come as no surprise, but meeting tools are designed to be used for exactly that: running online meetings.

Free meeting tools, such as Google Hangouts, Zoom, GoToMeetings and Skype, can all be used to run video meetings of small groups of colleagues and even company-wide meetings. However, as they are free, they will not have all the premium features of the paid versions, so this is something to keep in mind when choosing one.

Some of the primary use cases for online meeting tools include:
Internal communications: running internal team meetings and ensuring all key stakeholders are up-to-date, regardless of geographic location
Nurture working relationships: online meeting tools are a cost-effective way to nurture working relationships with clients and colleagues who work remotely, or even live internationally.
Improve employee morale: checking in with colleagues - and more generally, anyone - via video conferencing is an effective way to improve morale, which is especially relevant at the moment.
Meetings on-the-go: as most meeting tools have downloadable apps for mobile devices, you can access them while you're on-the-go.
Internal training: you can run internal training for your team using meeting tools, as most have a screenshare function. However, it's not often recommended for large groups as it can be a bit clunkier than uploading your slides to the cloud like you would with a webinar platform.
So, how do I choose between a webinar platform and a meeting tool?
If you're still asking yourself this question, then you're not alone. Knowing exactly what platform is best for you and you business needs isn't easy, which is why we always recommend asking yourself the following questions when deciding between a webinar and a meeting tool:
What are my goals and objectives?
How many people will be attending?
What's my budget?
How crucial is security and privacy?
How often will I be running these meetings/events?
Do I require any specific interactive features from my platform?
Where and how will people be tuning in to this meeting/event?
Are there any integrations I require from my platform?
If you can answer these questions, then you'll be able to determine whether you require a webinar platform or a meeting tool. For example, if you're looking to run a quick 15-minute daily catch-up with your small team of 8 people, then you would opt for a meeting tool, whereas if you're looking to boost lead generation and generate revenue for your medium-size business, then you would choose a webinar platform. At the end of the day, it all comes down to what you're looking to get out of your platform.
Now, you may be thinking: "But, which one is better? Webinars or meeting tools?"
The answer is neither. Webinar platforms and meeting tools both have their own pros and cons and play their own important part in the online communication ecosystem.
However, if you're interested in finding out more about webinars and how they can benefit your business today, download our free Ultimate Webinar Handbook today.