So, you've created a webinar. That's great! But, how do you attract an audience to attend your webinar?

This is a question we hear regularly at WorkCast and honestly, it's easier to attract an audience if you're an established industry name. However, if you're not in the online events 'big leagues' then you need to undertake some serious promotional work to draw attendees to your webinar.

Webinar promotion and distribution is essential for ensuring event attendance, which is why we have compiled a list of the 7 best practice tips for promoting and distributing your webinar online. Take a look a build your own successful webinar marketing plan.
1. Influencers
Influencers are everywhere and there is a reason for it: influencer marketing works. It's become a staple in every digital marketer's toolkit and the rise of social media platforms, like Instagram and Snapchat, for advertising in recent years and now you see celebrities lending their image and name to products or services on a daily basis.

For example, you see George Clooney advertising Nespresso machines and you want one too. Using someone of influence, who can create visibility for your business, gives you access to a wider audience and helps to build trust with audiences.
Therefore, promoting a webinar using a well-known industry name, can potentially generate more interest in your event. Influencers can promote your webinar in the following ways:
Name-drop your upcoming presentation on their social media account, so their followers see the message.
Sharing a post on their social media channels, saying something like: "I'll be tuning in to WorkCast's webinar this week, one I believe any marketer should take time to view."
Having the influencer re-Tweet or share your post about the webinar on Twitter, Facebook, etc.
Having an endorsement like this from an influential figure will lend extra weight to your overall promotion. And, if you build a connection with said person, they can lend their name to future events or promotions that you run.
2. Blogging
Blogging is an essential component of any digital marketing strategy and it's well known that any company worth its salt has a blog on their website.

Blogs are a great way to establish yourself as a thought leader in your industry, improve organic visibility for relevant keyphrases (i.e. SEO) and increase brand awareness. You can also use your blog as a means of offering a preview of what's to come in your webinar, or driving users to sign-up to your upcoming webinar with the blog's call-to-action.

However, blogging shouldn't be seen as your primary distribution channel, but it can play a smaller, yet essential role of introducing people to your webinar and driving registrants.
3. Social Media
Social media platforms, like Facebook, Twitter, LinkedIn and Instagram, are an effective way of promoting and distributing webinars and improving awareness.

From creating online events on Facebook to sharing links to your webinar registration forms on LinkedIn, you can utilize various social media platforms to attract audiences to your webinar and drive registrations.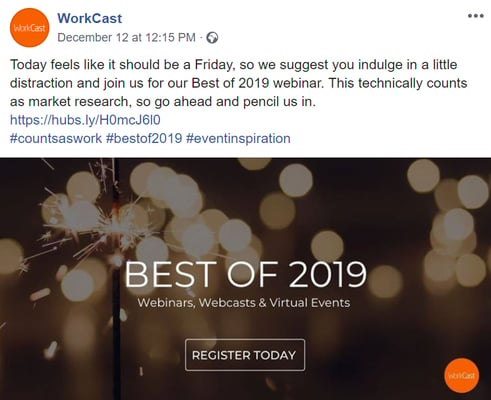 You can not only share organic posts with your existing audience on social media, but you can also create paid ads that target custom audiences to increase your visibility. You can A/B test your webinar ads, using a variety of mediums, such as static images with links, carousels, promotional videos and more - so that you can maximize your ad spend and ensure optimum engagement.
4. Press Releases
In an age of influencers and social media, some marketers consider Press Releases as a bit old-fashioned. However, to that we say, you can't beat the classics!

Press releases give your webinar a bigger, more official feel - making it more of an occasion. Therefore, drafting a formal press release adds a sense of credibility, which can be invaluable when hunting for registrations.

If you're looking to attract industry professionals, then press releases may hold more weight with some, than say, Twitter posts. Press releases act as a good starting point for your overall promotional campaign, so they belong in every digital marketer's artillery.

When drafting your webinar press release, ensure you outline the following:
Your event details e.g. date, time, duration and speakers, etc
A clear description of the purpose of your webinar
and...
What people can gain from attending the webinar
5. Website

This one's easy: promote your webinar on your website. This type of webinar promotion is often overlooked, but it is important to maintain visibility and awareness of your online event across all channels.

How do you do this? One way, is you can advertise your latest, or upcoming, webinars on your homepage - as this is the most popular page on your site. You can do this with a clickable banner image, or possibly a promotional video that then drives users to the registration pages.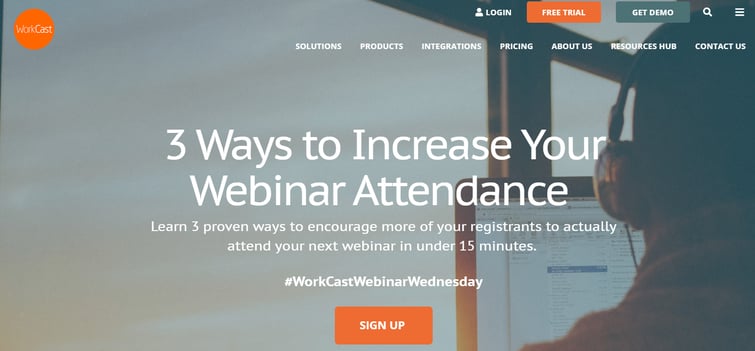 Another way to leverage your website is to create a dedicated category for upcoming webinars where users can regularly check and sign-up for events. You can then share this page on social media and email to drive webinar attendance and registrations.
6. Email

Email is and continues to be an effective way to promote webinars and online events - especially if your business has an extensive email database.

If you're able to craft a highly targeted and relevant email campaign, your emails will attract a huge number of attendees - some of which will become sales qualified leads.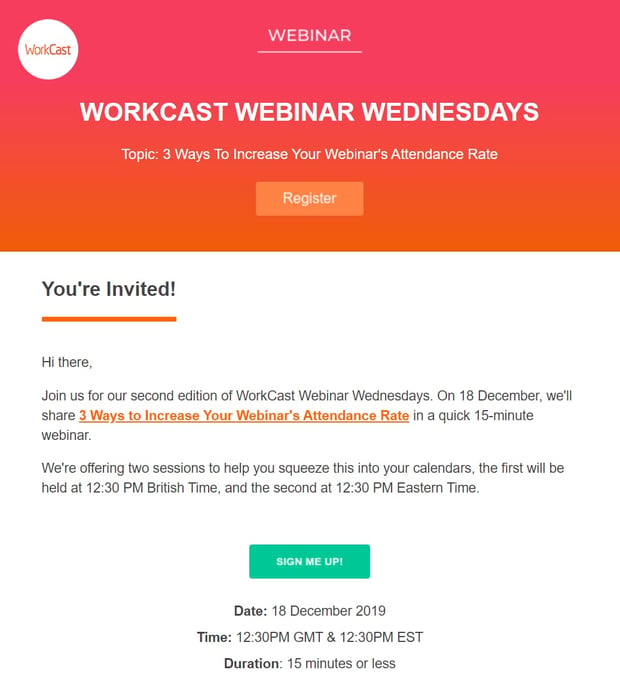 Whether they're sent out as webinar invitations, to initially inform people of a webinar or distributed at regular intervals as a reminder, webinar emails work wonders. As a webinar distribution tool, emails should always outline the benefits of your presentation for attendees, selling it to any recipients.

Emails also need to relay information about the event itself, such as:
Time & date
Presenters & Speakers
Topics
Descriptions
Links to relevant content
CTAs to drive registrations
Put simply, if emails are used correctly and optimized to have the maximum impact on your target audience, they can be an indispensable part of your marketing distribution strategy
7. Google My Business
Originally created to promote local businesses, Google My Business can now be leveraged by marketers to promote their online events. Using the Post function in Google My Business, you can create an event for your webinar for free.

To get started all you need to get started is to provide an image or video, event title, date and time and URL to your registration page. Once you have published your event, users will be able to see your event whenever they see your business in local results. Just make sure you optimize your title for relevant keyphrases, like 'webinar', to improve your organic visibility in search engine results pages.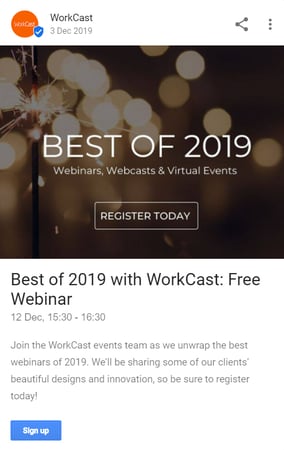 You'll be able to gather live post 'views' and 'clicks' insights from Google My Business, which can help to inform your future marketing strategy i.e. you'll be able to determine what works and what doesn't work.
Whether you're an industry leader or a startup, you can create awareness and drive attendees to your event by utilizing these 7 ways to promote and distribute your webinar. If you're looking to discover how to make your webinar a success from start to finish, then download our free eBook: 'A Practical Guide to Webinar Success' and take your webinars to the next level.