[Updated for 2021] Create your best webinar title yet with our five top-tips (and 3 bonus tips) to help. We've included a free cheat sheet infographic, and a link to our updated eBook "How to Create Engaging Content for Webinars" as well for handy reference whenever you need it.
Hint: our top title creation tips don't just apply to webinar titles. Use them for your emails, Twitter posts, LinkedIn adverts...
Why do you need to work on your webinar titles?
According to Hubspot, content marketing can get up to three times more leads than paid search advertising. And your webinar title is the first thing a potential audience member is going to see of your content.
Not perfecting your webinar title would be like Apple Stores not being immaculately window-dressed.
Your webinar title should make a good first impression. Good enough for someone to want to click and find out more. It's the first step to converting your audience into a high-quality lead.
As Rebekah says at Ahrefs, "[spice] up your title and description. Since we want searchers to actually click [...] your post title needs to be as click-worthy as possible."
Marketers are responsible for ensuring content stands out and generates quality leads. We know one of the most important elements of capturing attention is through the title of our content. This is especially true for webinars - a great title can be the difference between a well-attended webinar and your event disappearing into the ether.
How do I create catchy webinar titles?
Our 5 top tips should help you craft some great webinar titles, and there are some bonus tips below to get you started too. Remember that the more you practice the better you'll get! Once you've finished scripting your webinar it's time to get writing titles. Follow these tips to help:
1. Feature a keyword (that's relevant to your content)
Choose a suitable keyword and make sure you feature it at the start of your title. It will give an audience a clear understanding of what your webinar is about, and might help your webinar rank higher on search engines and increase visibility on social media.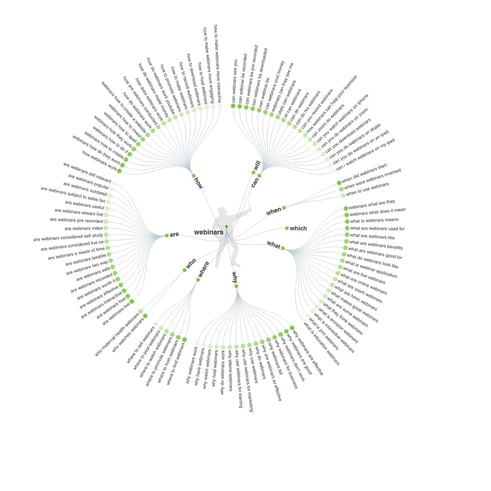 The key with keywords: using keywords doesn't mean your webinar landing pages will rank organically on search engine's results pages (SERPs). However, tools like Keyword Planner, Answer The Public, Ahrefs, and Moz will show what terms/keywords people are actually searching. Use those keywords and however your audience finds your content (organic SERP results, pay-per-click advertising, or social media advertisements) you'll be aligning yourself with a topic that people are actually interested in.
2. Use descriptive copy
This seems straight forward, but it can be difficult. Using expressive and evocative copy can help you create catchy webinar titles with being 'click-baity'.
Descriptive writing communicates your subject matter well but it can also give your prospective audience a good idea of the tone of your webinar presentation and an insight into your brand.
Rebekah gives a good example of using descriptive writing to make great titles: "if your original title was "The Best Areas in Zelda: BotW", why not add a bit of flair to it? The 7 Best Areas in Zelda: BotW That Look Absolutely Incredible [or] Awesome Areas in Zelda: BotW That You Never Knew Existed".
Get creative and write all your ideas down. A great title takes time to come up with and it won't be the first you think of.
3. Keep the audience and topic in mind
Your webinar title should reflect both the topic your presenting and the audience you hope to attract. Do you want to appeal to marketers? Or maybe retail consumers are your demo? Make sure your title is relevant to them, while also conveying what the topic is.
Attendees are more likely to register for events that are tailored to them.
Read more: Discover 8 ways to find trending topics for your webinars.
4. What are you offering?
People want to know what they are going to get - tangible benefits - out of a webinar. So make sure you describe (briefly!) what you're offering, what they can learn and what your event is all about.
This is where list titles and 'How To' events come in handy. When you sign up for "5 Secrets Every Marketer Should Know About GDPR" you know exactly what you're getting.
Questions are also great for this.
5. Keep it short and sweet
According to HubSpot, titles with 6-13 words attract the highest and most consistent amount of traffic. This is also applicable to good webinar titles. While there may be a bit more leeway in terms of length, you won't attract attendees with long titles.
Pithy, descriptive language is key here, while also making sure you keep it simple. Don't overthink it and don't get too fancy. If you start to create super long titles, there's a chance your message - and your attendees - will get lost in the process.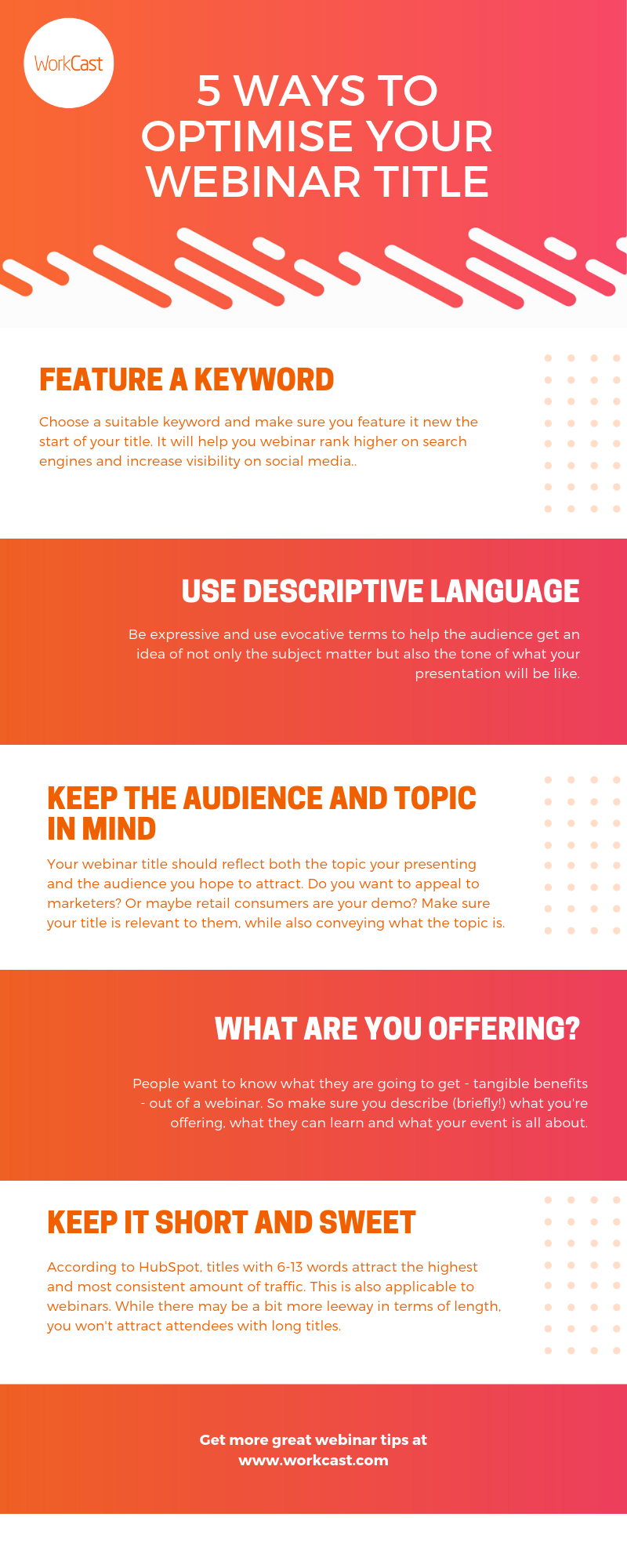 Bonus Tips
Brainstorm your ideas, test your titles, and 'borrow' other brand's title structures.
6. Brainstorm
Your first idea is probably not your best. Iterate your ideas by writing loads down. Don't worry if you know some are rubbish, just keep writing them and keep writing them. Seriously. I almost never stick with my 'working' title when I'm creating content. Once you've got loads of ideas then it's time to test your titles!
7. Test your titles
The great thing about digital marketing is that you can test your work and refine it. Don't just put up one advert, put up 20 with different titles. See which 3 get the most conversions (sign-ups) and figure out why they work. Then test more. It's the only way to truly find out the best webinar titles.
8. 'Borrow' other's ideas
It's hard to get started. If you're not used to writing webinar titles then this is a good place to start. Take a look at how your favourite content producers write titles and figure out the structure. This can help you begin to formulate your own catchy webinar titles.
Over to you
There obviously isn't one winner webinar title for every business. Getting your webinar titles working for you takes time and effort. Write down loads of ideas, test your ideas, and find out what works best for your own webinars. Then keep it a closely guarded secret.

Hopefully this article will help get started on a long and illustrious career of webinar title writing.
Want to learn more about how to create engaging webinar content? Download our free eBook now.