Getting more leads, or specifically more prospects engaging with your business, is one of the most important functions for marketers, and most businesses understand that webinars allow you to achieve mass engagement and grow the quantity and quality of your leads.
However, producing engaging webinar content is a demanding task for subject matter experts and the marketers who support them.
I want to discuss how to improve the Return on Investment (ROI) from running webinars. For many businesses this is best measured in the number and quality of leads that are collected or enhanced by being moved through the funnel.
A consistent theme in my approach to improve your webinar's ROI is to maximise the usage and distribution of your webinar content. This is a proven method to increase your engagement, registrations and attendees.
Before we dive in, one important consideration is to understand the how your webinar content will age. Will the subject and content of your webinar still be relevant in 1 month, 3 months, a year, or even 2 years? Identifying an expected 'use by date' for your content is a great way to ensure you get the maximum ROI without exposing prospects to stale ideas, imagery, or products.
It still amazes me that most webinars are run once, published on-demand, and then left to quietly wither. When marketers are committed to maximizing the value from each webinar, the effort to produce great webinars become completely appropriate and even justifies producing better content - going that extra mile.
The 5 ways to generate more leads from your webinars that I outline are essentially 5 ways to squeeze more value from the effort you put into creating the webinar. These will improve your ROI and ensure the overall success for your webinar program.
1. Use Simulive Webinar Recordings

Simulive are pre-recorded webinars that are then run as though they are live (you may have also heard them called scheduled replay).
I hear all sorts of reasons given as to why this can't be done or even that it's deceptive or disingenuous if you don't run your webinars live. Before I walk through the advantages of using Simulive, let's look at the 'ethics' of a Simulive event.
To clarify, I'm not suggesting anyone needs to be deceptive. Simply ensure you do a live introduction, have added new polls to keep engagement levels high, and include a live questions/discussion at the end of the content.
Pro tip: Do a live webcam introduction and give the background of the webinar recording and why the topic is of interest now.
For example an introduction might be:
"Hi Everyone, I am delighted you are here to be part of this discussion and presentation on [Your Subject]. [Presenter] first shared her thoughts in this webinar in July 19 but we asked her back today in response to the amazing feedback, and to answer some of the many questions we have had since our original broadcast. We will be taking questions throughout, so please get involved and click 'ASK' to send your question. The presentation raises interesting questions, so we want to get your views and will be running live polls, so please let us know you opinion when you see them appear. In 20 mins when the presentation is complete, we will be available for a follow-up Q&A. "
This type of Simulive is remarkably successful in terms of improving your lead generation while maximizing ROI. With a very small amount of effort, you can expect to generate just as many leads as the first time you ran the event.
It is common for webinars to be re-run through this Simulive + live approach up to 5 times. How many times and in what frequency you re-run your webinars depends on the 'use by date' you identified for your content.
2. Evergreen Your Webinar

In their simplest form, evergreen webinars are webinar recordings that have been published and continue to be available beyond the date it is presented live. We all do this...So what?
Evergreen can be taken a lot further with the objective of continuing to harvest leads, educate, inform, and pull people through your funnel/flywheel. When setup in this way, webinars can recur as often as you like. In this case it's not an on-demand webinar but a real live webinar that repeats it's cycle again and again. This can be daily, weekly or monthly.
Using this in combination with recorded or partially recorded content makes a powerful tool to gather leads but also inform with regularity. As with Simulive events, incorporate opportunities for engagement and interaction in each session.
This method is actually a real win-win approach as organisations can ensure a steady stream of high quality content but with direct Q&A access to experts. Attendees get the benefits of live engagement and a flexible webinar schedule.
We see a wide range of customers use this approach to achieve their communication and lead generation goals. It can be used for everything from product demos, to sales presentations to establishing thought leadership. We have also seen this strategy used as a powerful employee on-boarding tool that introduces employees in a standardized and compliant way, but also allows them to engage and become acquainted with the company, culture and people.
3. Make Mini-Webinars, aka 'Chunking'

Let's face it, we all have short attention spans and are strapped for time. Chunking takes a recording of a complex webinar and sections it into shorter mini-webinars. These are typically 30 seconds to 10 minutes long, and are designed to be self-contained, providing the audience meaningful information when viewed in isolation. Typically they will cover a single topic or slide's worth of content from the original webinar.
The nice thing about chunking is that it's pretty easy to do. Rather than producing a complex edit, the webinar can be 'top and tailed' or trimmed from the start and from the end. Repeat this process to make many chunks of different sections.
Pro Tip: Plan your content and 'chunks' in relation to the social media platforms that you engage with. For example LinkedIn only supports video up the 10 minutes, Twitter is 2min 20 seconds.
Here are 8 uses of mini-webinars that we have seen this year:
LinkedIn video posts daily at same time each day for a week.
Twitter Moments basically reassemble the chunks (sounds paradoxical but it creates a popular moment that gets more attention than a standard tweet).
Facebook stories as above.
Instagram stories as above.
Daily email with a chunk of content set to be sent at the same time every day. My favourite was a 'commuter baby webinar' which had a simple chunk to click and view. It was sent in local timezone at 7:50am.
YouTube teasers. The chunks were setup as individual YouTube segments that promotes to full on-demand webinar.
Paid social landing pages with a chunk as the primary landing page content promoted on paid google ads specifically targeting the 'tail', so the micro-subject.
Channels of content, so each section can be clicked and viewed through 'chapterization'.
4. Make a Teaser Video and Syndicate It

Think of a 'teaser' as the trailer of your webinar, just like you would watch a trailer on Netflix or Prime. A webinar trailer provides a simple summary of the webinar, its aims and narrative. This should be short so it becomes a quick watch, but also so it can be easily distributed through all of your social media channels. The best way of producing these will depend on your in-house team and available skills. I advocate for quick and easy wins, so my approach is to either:
Do a very quick 1 slide webinar recording with your webcam
Have someone record you direct to your phone
Try to produce a good quality and make sure you remember some basics:
Hold the phone steady (buy or rent a tripod or phone grip)
Make sure you hold it horizontally so the video is in 16:9 dimensions
Have a quick check that your lighting looks ok
When you have the teaser video, use it everywhere - especially on the webinar registration page. Your teaser should become the primary promotional content for the webinar.
5. Polling, Questions, Chat and Engagement
This is where LIVE really comes into its own. I've talked a lot about using recordings - but I'd never advocate anyone only doing on-demand webinars. Engagement with on-demand webinars is significantly lower than engagement with LIVE webinars or even Simulive. In research we identified that LIVE webinars have 700% more viewing than on-demand.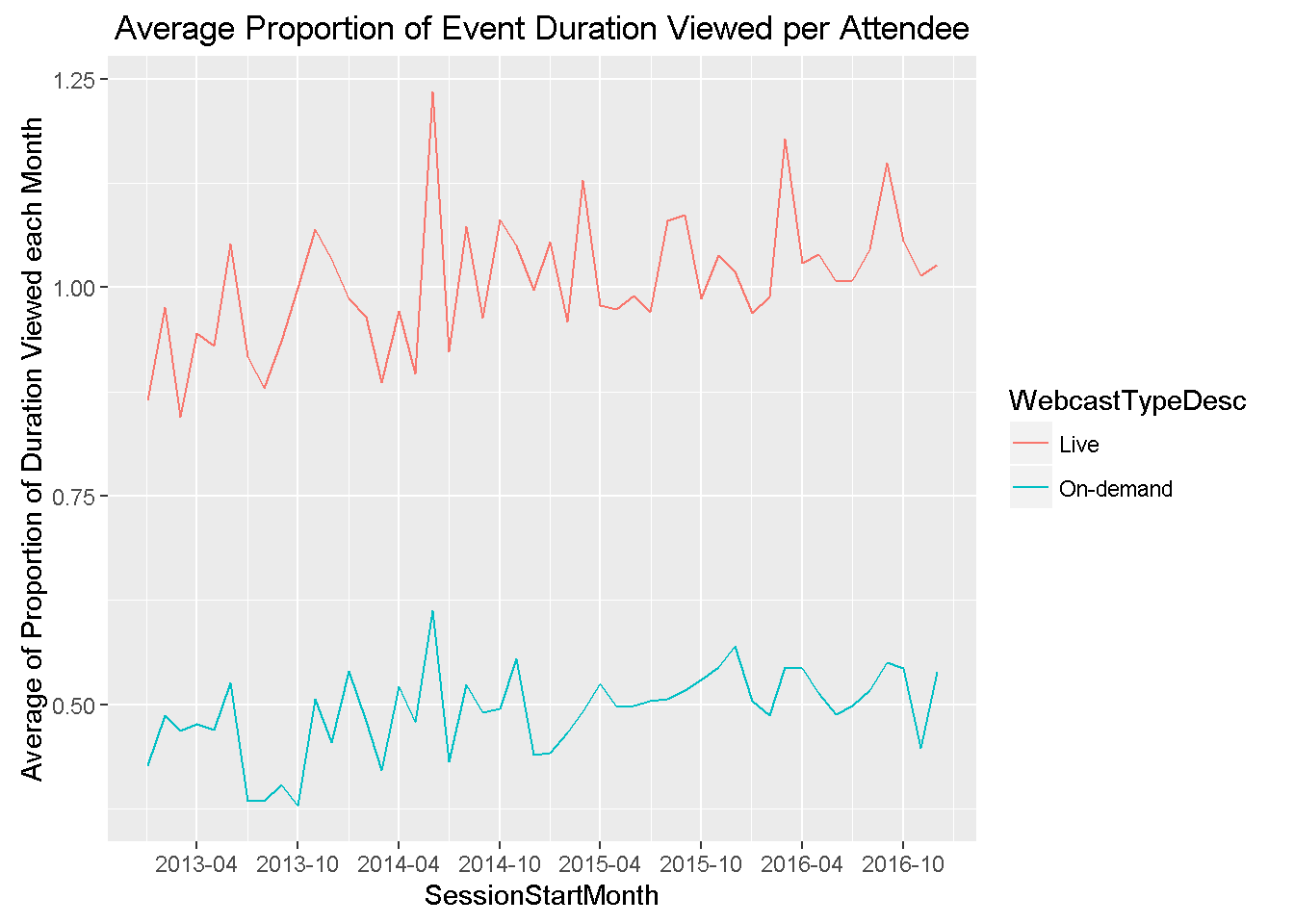 Data source: WorkCast
Running polls and promoting questions increases the amount of data you can collect through your webinar and improves the attendees engagement score. Polls and questions raise the engagement directly but also help marketers and sales teams understand that a given attendee was actively engaged.
This level of improved engagement can also be used effectively by your sales team actioning leads from your webinar. Rather than a bland, generic sales approach, it allows sales team to approach customers with a more personalized offering, something like:
"Hey Karine, Thanks for attending our webinar on XXXXX. I wanted to reach out as the question you asked on XXXX was interested and made us discuss how we could help address your point"
Improving engagement doesn't necessarily increase the volume of attendees, but it does add enormously to the experience of those attendees. Their engagement can directly impact how to address each attendee and will also help inform any automated scoring to highlight better quality leads.
Conclusions
Marketers know how to promote webinars and they do it well. However, I believe marketers need to think more like TV production companies and ensure they get every last bit of value from the webinars that they produce. Production companies commit to producing quality broadcasts as they know it is the only route to selling and re-selling their programming. The webinar industry can learn from this approach and improve the return on investment for webinars - by generating far more leads.
This approach also creates a really healthy feedback loop for webinar producers, which enhances the entire webinar program. Ensuring a better webinar product (content and presentation quality) adds to the success of the live webinar, but also justifies and enhances the opportunities for re-using the webinar recording in many ways.
The combined effect is that more leads are created, prospects engage more and delight in their experience of your organisation. You and your organisation see vastly improved ROI, which in turn justifies enhanced effort and therefore quality in their webinar programs.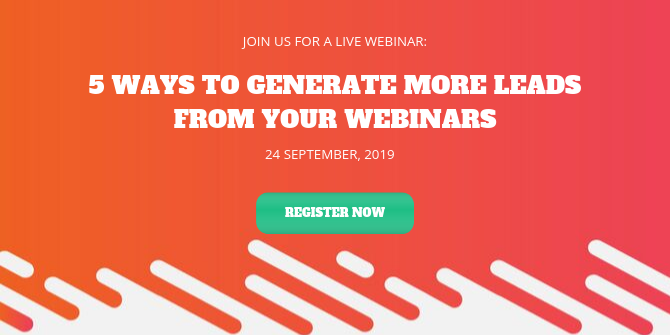 Share your learnings with your team. Download our 5 Ways to Generate More Leads infographic.