Everyone loves a life hack.
We're not in the business of telling people to use a hair straightener to iron their shirt collar (you're welcome), but we do have plenty of insider tips and tricks when it comes to webinars.
So, we have compiled a list of 10 webinar hacks for building a better webinar and ensuring every one is a success. From the initial planning to implementation and post-event activities, these simple hacks will help you to improve audience engagement, drive increased pipeline and revenue.
1. Promise a reward
We're all familiar with the idea of leading with the carrot i.e. increasing motivation through reward. There's no reason you can't adopt a similar principle when it comes to your webinar.

Studies have shown that rewards boost sustained attention through increased effort, so the higher the attendee's reward the more effort they will put into a particular task - like watching your webinar.

This principle can be easily applied to your webinar programme by offering a reward to attendees for tuning in. This could be something as simple as answering a question correctly at the end to receive a gift voucher, free eBook or more. Regardless of which reward you choose, the key is to motivate the audience to pay attention.

2. Acknowledge your audience
It's no secret that humans like recognition.

Recent studies show that people who were asked to complete a repetitive task persisted for a longer period of time when they were personally acknowledged - via eye contact - each time they completed a step in the task.
You can adopt a similar approach with your webinar and increase audience viewing time by acknowledging your them at various points throughout the presentation. If you allow attendees to ask questions during your webinar, then you can call out a person by name when you give your answer e.g. "We have just received a great question from John…"

Another simple way of keeping your audience engaged and preventing drop-offs is by simply thanking them for attending at different touch points in your presentation. Voicing your appreciation for them sparing an hour of their day to watch your webinar will make them feel validated and increase the likelihood of them attending until the end.
3. Engage attendees beyond your webinar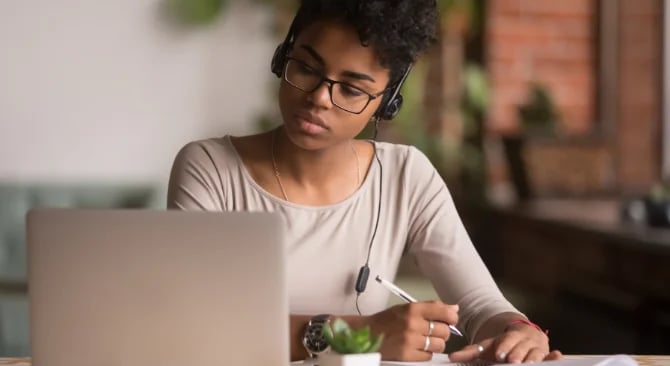 Engaging attendees prior and during your webinar presentation is only half the battle. One of the secrets to webinar success is encouraging engagement and conversions long after your live webinar is over.
One way to do this is to include your contact information in the final slide of your presentation. Rather than displaying a generic "Questions?" message on your placeholder slide while you conduct your Q&A at the end of your webinar, you can include your contact information, links to your website or relevant blog posts, or a CTA to download a relevant eBook or report.
Now available on-demand. Learn how to increase your lead conversion and ROI using webinars. Watch now.

Most Q&As last for 10-15 minutes, so you will have your audience's undivided attention during this time. This means that their attention will be drawn to the slide in front of them while you answer their questions, which provides you the perfect opportunity to offer them different ways to engage with your content beyond the live webinar.
4. Attach your webinar presentation deck or script
One of the most common requests we receive at WorkCast is access to the webinar presentation deck - particularly for those who attended the webinar live.

Attendees often like to revisit a webinar they watched to access particular statistics, quotes, or visuals that were referenced during the presentation. Making your presentation slides readily available for download in your resources section - during both the live and on-demand presentation - will allow these users to find the information they seek quickly and easily.

Similarly, you can provide a copy of your webinar transcript for attendees to download when your presentation is over. This can be included in the resources section of your live or on-demand webinar or transcribed on your on-demand webinar page. This practice is also beneficial for search engine optimisation (SEO), as it provides keyphrase ranking opportunities for relevant terms.
5. Use video
Everyone knows that a picture is worth a thousand words, but did you know that a 1-minute video is equal to 1.8 million words to your audience?

51% of marketing professionals worldwide name video as the best type of content for driving ROI, which is why it is essential to use video as part of your webinar strategy. An example of this would be to create a two-minute promotional video for your upcoming webinar to embed on your registration page and email invite. This video can also be shared across social media and hosted on YouTube to drive registrations and pique people's interest.
You can bring new life to your webinar presentation by utilizing video content in your webinar - whether that be by embedding video content in your presentation slides or bringing a panel together on film so that attendees can watch them interact in real-time.
6. Use customer feedback to generate content
Gathering customer feedback is not only beneficial for understanding your customers and buyer personas, but it can also help you to improve your content marketing strategy - specifically, your webinar strategy.
Creating customer-centric webinar content will ensure that you are providing value to your target audience, which will in turn increase engagement and conversions. But, how do you gather customer feedback? There are several ways you can gather feedback, including:
Engage in social media listening to monitor brand mentions, comments and brand sentiment
Share an online survey to your customers using tools like Google Forms, Survey Monkey, HubSpot etc
Review attendee questions asked throughout the webinar and pull out any commonly asked questions or themes to use as a basis for a webinar
Simply ask your audience

what content they would like you to cover in your next webinar
7. Automation
If you ask any webinar host what their biggest challenge is when it comes to running webinars, the answer will always be the same...time!
The best way to save time (and money) when you're planning a webinar is by automating as much of the process as possible. This means that all you need to do is complete the initial set-up and then you can essentially leave your webinars on autopilot while you focus on the more important things.
If your webinar platform integrates with a marketing automation platform like HubSpot, then you can create automated email workflows or automate the hand-off of new registrants to your sales team to follow up.
| Read more: Learn how to create a webinar email workflow and get a free template.
8. Keep mobile in mind
The online landscape is changing, with mobile traffic accounting for around 53.29% of the market share in 2019.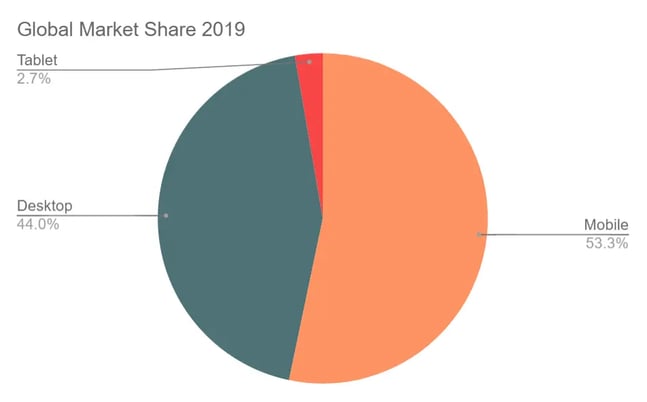 Therefore, it's essential that all webinars are created with mobile in mind - as approximately 25% of webinar attendees will tune in using their mobile devices. Just like Google prompts all websites to adopt a mobile-first approach when constructing websites, the same holds true for your webinar presentation.
How do you ensure that your webinar is mobile-friendly? Firstly, choose a mobile-friendly webinar platform during the planning stage and then do a dry run of your webinar, watching the presentation on a range of mobile devices. Doing so will ensure a good user experience for mobile users, prevent drop-offs and likely encourage attendees to register for future webinars - as they can attend at their leisure from their smartphones.
9. Document your webinar process
You may need to create several, even hundreds, of webinars as part of your long-term marketing strategy, which is why it's important to document the entire process.

Documenting your process will save you time (your future self will thank you for it), as it helps to streamline your webinar production in the future. You can do this by creating reusable templates for scripts, presentations, emails and more, as well as a checklist of each task required for completion at every stage of the process.

You will want to create an editorial calendar for each webinar where the topic, speakers, date and time is planned out in advance (opt for 12 weeks out if you can) and can do this using project management tools like Trello (see below), or something as simple as Google Sheets.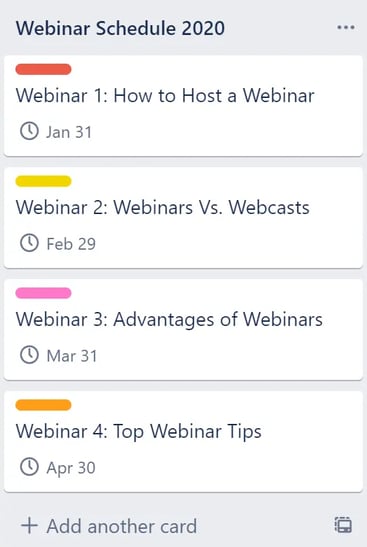 10. Less is more
It may seem like a good idea to run a webinar every other week, but we always advise that less is more when it comes to webinars.

You are aiming for quality leads, not quantity, so the best way to do this is to create a highly-targeted webinar campaign that will work like a lead generation machine in the background.

Given you have developed buyer personas for your brand, you will need to create bespoke marketing material for each buying persona as part of your webinar campaign - which takes longer than creating a single campaign. As the saying goes: "Short term pain, long term gain" - if you spend more time planning out your webinars and tailoring it to your audience, you will reap the benefits.
Did you know that webinars and webcasts aren't the same thing? We debunk this myth and more in our free Webinar Myths. Download your copy today.