Online events are a wide-ranging industry. They include everything from the standard webinars you know and love to multi-session virtual events.
An important piece of the online event landscape that doesn't often receive the same hype is webcasting.
Webcasts, like webinars and virtual events, are a relatively new technology. The first webcasts were not actually streaming videos, but rather still frames photographed with a web camera every few minutes, which were then broadcast out over the internet.
Webcasts have evolved well beyond that and can be used for a multitude of events and projects.
But in order to effectively introduce them into your online events repertoire, it's important to know the basics, so we've put together everything you need to know about webcasting.
What is webcasting and how does it work?
At WorkCast, we use the term webcast to refer to a live video stream of an event or conference. Essentially, webcasts are polished, high-quality videos that bring your event to life on the internet.
Those TED talks that are live-streamed across the world? Those are webcasts. Web + broadcast = webcast. It's as simple as that.
Webcasts can be streamed live or on-demand and require your audience to tune in, watch your webcast video stream, and engage by submitting questions and participating in polls.
A webcast works by using broadcasting hardware (this can be a single computer or a collection of servers) to process the data being broadcast.
Then a software solution or platform, like WorkCast, ensures the audience can access the webcast.
The hardware and software work together to send a virtual channel to attendees, which they access via the internet on the device of their choosing.


Why webcasting?
1. Scalability
One reason why marketers and businesses choose webcasts is that they're designed to reach large audiences - we're talking attendee numbers in the thousands.
Webcasts are not confined to the limits of physical event space so you can scale them based on demand for your event as long as your platform can accommodate that capacity.
2. Professional Quality
Webcasts can be used when you want to up the ante on your online event.
Webcasts provide a professional, polished finish to your broadcast, with a TV/studio-like quality, webcasts allow you to bring your physical event to life.
Whether it be a virtual town hall, conference, panel discussion, product launch, or stakeholder/annual review.
3. Engagement Options for Webcasts
They also offer a great chance for engagement with your attendees.
Most webcasts won't have that 2-way communication you can sometimes get in a physical event, meaning you won't be able to see your attendees on video or hear them in an audio link.
But for a large online event, controlled two-way communication is much more effective and engaging for attendees.
With a webcast, your online attendees are still able to engage with polls and submit questions via a text-based chat.
You can also use surveys and post-event-follow up to get that engagement to the next level.
4. Data and Reporting
With a webcast, you can see who attended your event, for how long, what sections of content they engaged with, if they submitted questions, and so much more.
This means you can identify any hot prospects or areas of content ripe for improvement.
5. Accessibility
This is becoming a bigger consideration for a lot of businesses. Webcasts remove barriers for attendees that are often a challenge at physical events.
There are a lot of people who may not be able to attend these events in person - whether it's because of a physical disability, the personal cost of attending, or simply not having the resources to travel.
Webcasting makes your event accessible to anyone with an internet connection or smartphone.
How to use webcasts?
Webcasts are really versatile events. They can be used for almost any type of event. Here are just a few ideas to show you how you can introduce webcasts into your online events program.
Webcasts for Conferences and Tradeshows
Whether you want to host your event entirely online or just add an online component to an existing physical event, webcasts are a great tool.
For example, webcasting can be used as an additional tool for flagship annual conferences. With guest speakers and many other business leaders, you can increase the accessibility of the event by webcasting portions of it.
Webcasts for Corporate Communications
As organizations grow, so do their communication needs. Part of the challenge for larger organizations is communicating in a way that fosters engagement amongst employees. Webcasting is a great way to get leadership in front of your workforce in an efficient and effective way.
Have you ever seen companies hosting their AGM online? This is a webcast. It allows organizations to get important information out quickly and at scale.
Webcasts for Product Launches
Want to launch a product? Or what about showing off its USPs and benefits? A webcast is a great way to do that.
Software AG is enterprise software that is trusted by thousands of organizations around the world. They used webcasting as part of a virtual event to aid in a product launch. The event included:
Panel discussions
Multiple keynote speakers
Educational breakout rooms
Downloadable event resources
Audience polls
→ Read more about Software AG's product launch
Webcasts for Thought Leadership
A large part of the inbound marketing sphere is thought leadership. You have to do more than sell to prospects, you want to provide value to them so you become a trusted source of information. Webcasts are a great way to do that.
GlaxoSmithKline used webcasts for its Human Performance Lab, an innovation center dedicated to research in areas such as nutrition and psychology. Using webcasting, GSK featured HPL in a high-quality series of broadcasts, that not only increased attendee engagement but also provided sponsorship opportunities. This high-quality online hub hosted expert content and thought leadership articles.
→ Read more about the Human Performance Lab
How to create a webcast (free checklist)
Webcasts are no longer reserved exclusively for global sports events and large-scale conferences, which is due to webcasting equipment becoming more readily available and inexpensive. As the use of webcast solutions grows, more people want to know how to create a live webcast.
Plan your live webcast like you would any event i.e. choose your presenters and speakers, date and time, studio, topic, and content.
Choose your webcast platform e.g. WorkCast Stratus.
Set up your webcast in the back-end of the platform pre-event.
Promote your webcast via social media, email marketing, landing pages, and more.
Practice, practice, practice - do a dry run to ensure your speakers and guests are prepared.
Set up your webcast in the right environment with the appropriate equipment i.e. studio, on-site.
Run a test stream to test your internet and audio levels before you go live.
Ensure you have a backup plan for video, audio, and the internet in case anything goes awry.
Run your event!
Follow up with your audience post-live webcast with a thank you email and a link to the on-demand version of the live webcast.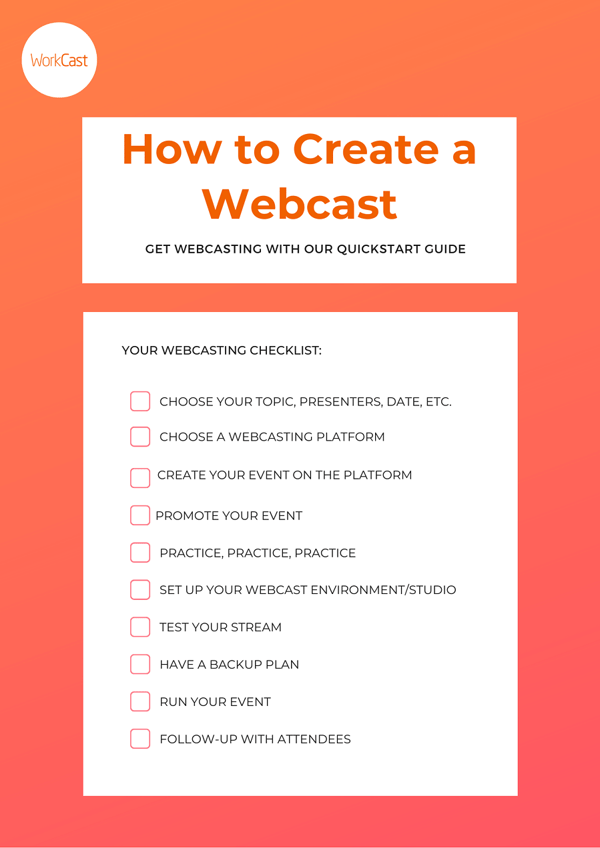 How do you host a live webcast?
When it comes to live webcasting, or any event, there are a few tried-and-tested best practices that will help you bring the best our of your panel, guests, speakers, and audience.

Here are our top 10 tips for any webcast host or presenter:
Be Passionate & Energetic
Share Personal Experiences
Encourage Audience Engagement
Meet Audience Expectations
Present to a Global Audience
Keep Cool, Calm, and Collected
Create Engaging Slides
Be Punctual
Think Outside the Box
Practice Practice, Practice
We've got loads more information on how to be the best presenter you can in our Top 10 Tips Webinar Presenters Should Know blog. I know, it says "webinars", but the advice is the same.
Webcast 101: Frequently Asked Questions
Can a webcast be recorded?
Absolutely. Using WorkCast as an example, all of our customer webcasts are recorded when they are broadcast from the platform. They can then be turned into an on-demand event or you can download the file for later use.
What's the difference between a webcast and live streaming?
A live stream is exactly that. A broadcast that goes out live, not pre-recorded, to an audience over the internet. While a webcast can consist of a live stream, it can also be pre-recorded.
Can you host a webcast on YouTube?
Yes. YouTube has a feature called YouTube Live that allows you to live stream video to the platform. You can also record your event and host it on YouTube, but this won't give you the same benefits as a traditional webcast i.e. you won't get comprehensive analytics and engagement will minimal.
Can you host a webcast on-demand?
Yes, you can absolutely host a webcast "on-demand". You would simply pre-record the video, then broadcast it using your webcasting platform. You can also, depending on the platform, host a webcast as a simulive event, where you pre-record the content and host it live. This will increase engagement as you will be able to engage in questions, polls, etc.