COVID-19 is causing a lot of organisations to reassess how they host online events. With safety and accessibility at the forefront of everyone's minds, this is not a surprise. And, it's not just large corporate entities and marketing agencies - colleges and universities are increasingly turning to virtual events as a way to connect with prospective students.
Specifically, the higher education industry is seeing a massive increase in the number of virtual open days being planned and run across the globe.
But, before we get into why colleges, universities and educational institutions are taking their events online, let's go over some of the basics about the who, what, why and how of virtual open days.
Who runs virtual open days?
So what types of organisations are using virtual open days? I've already mentioned colleges and universities, who are by far the primary consumers of this type of virtual event.
That's because virtual open days allow these institutions to expand the reach of their event and open their doors to a global audience. More and more schools are trying to attract international students, and by embracing online events, colleges and universities can have a truly global reach.
But, it's not just colleges and universities who benefit from virtual open days. Real estate agents are seeing some success in hosting their open houses online. Not only is it a great way to showcase a listing without putting prospective home buyers at risk, it's what buyers want.
The majority of people want a virtual tour or open day of some kind, with 67% of surveyed participants saying they want to see this aspect when they're looking at a listing.
Virtual open days and open houses are great for any organization that wants to expand their reach, increase interaction, and showcase their institution with relative ease.
What is a virtual open day?
Let's back up a second though, and look at what a virtual open day actually is.
Like the name implies, virtual open days are open houses that take place online, rather than in-person. Prospective students (or prospective buyers in the case of real estate agents) can access curated content where they can, for example, take a virtual tour, attend online information sessions, and ask questions using elements like live chat.
Usually they are multi-session events combining webinars, webcasts, panel discussions, etc. This means that once you register and hit the event landing page, attendees can choose between different options. Maybe you have a keynote address and then some smaller breakout sessions. Or, perhaps you want to stream events to attendees by subject interest. You would have different sessions for each, all accessible via an event lobby or landing page.
What is the difference between a virtual open day and open house?
In a word, nothing.
The difference between a virtual open day and virtual open house is semantic; it depends on what term you prefer and this is largely dictated by what industry is running the event.
For colleges and universities, virtual open day is probably more common as they tend to be a bit more robust and include a number of different streams or sessions.
Virtual open house is a term that is more popular among the real estate industry, which makes sense, as it mimics the term they already use when referring to viewings of a property. The industry may also use open house versus open day to indicate that the tour or session is a few hours rather than a longer, all-day event.
Other than that, these two terms mean essentially the same thing - a virtual session wherein prospects can gather more information and take a virtual tour of a school or listing.
Virtual open day benefits
Why do organizations run virtual open days? Well, there are a number of benefits to this type of event:
Reach: I've already touched on one of the biggest benefits of a virtual open day, and that is reach. It is the best way to attract a truly global audience, especially for institutions looking to build an international clientele. Engagement: Another benefit of virtual open days is engagement. While it might seem counter-intuitive to think that a virtual event would see greater engagement than a physical one, we have definitely seen this trend in action e.g. 47% of people are more likely to ask a question at a virtual event.
Analytics and reporting: After a physical event, can you tell who attended what session, how long they attended for, and if they asked any questions? What about how engaged they were? Probably not, and even if you can, it will take a great deal of time (and money!). With a virtual open day, all of this information is literally at your fingertips, so you know what content is working, who is engaging, and where you may need to improve going forward.
Cost-effective: Running an open house or campus open day can be expensive. There is the cost of staffing and resourcing it, incidentals, and in some cases, catering. With a virtual open day, you can drastically reduce the cost of your event. I'm not saying it will be cheap - if you want to run a good event, you'll want to ensure you have a great platform - but compared to the cost of running the event in person, there will be a definite difference.
Accessibility: This is becoming a bigger consideration for a lot of institutions. In hosting your open day or open house online, you are removing barriers for attendees. There are a lot of people who may not be able to attend these events in person - whether it's because of a physical disability, the personal cost of attending, or simply not having the resources to travel. Virtual open houses make your event accessible to anyone with an internet connection or smartphone.
How to host a virtual open day
Now you know the what and the why, the question is how. Here is a quick list to get you started: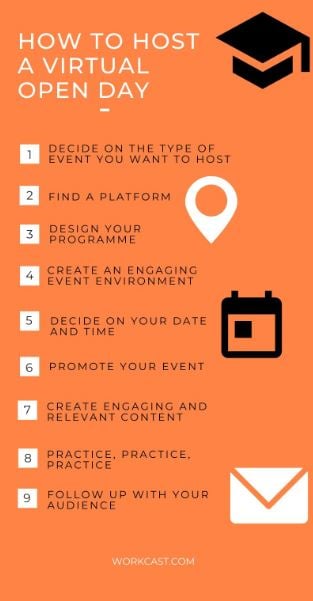 Decide on the type of event you want to host: Will you need a large multi-session event, or will a single stream webinar do the trick?
Find a platform: Not all online event platforms will have the ability to host the type of event you want to run, so ensure you know exactly what you need in terms of functionality, budget, and attendee capabilities.
Design your programme: If you do opt for a large multi-session event, you'll need to put together an engaging programme that caters to your potential audience. And, even if you don't, ensuring you have engaging presenters who can bring your content to life is important.
Create an engaging event environment: From your registration page to your auditorium, it will be important to ensure the event looks and functions the way you need it to. A seamless brand experience is important for all organisations, no matter what your industry. I always recommend working closely with your platform provider to make sure this works for you.
Decide on your date and time: Ensure you consider your audience and speaker availability. If you're catering to an international demographic, you will want to take the timezone into consideration.
Promote your event: Make sure you have a multi-channel promotion strategy i.e. social media, email marketing, landing pages and website banners. This will ensure your event is a success. Remember, no matter how engaging your content or event is, it won't matter if no one is there to see it.
Create engaging and relevant content: Your content is one of the most important aspects of your event. You can reach out to your speakers, your marketing team, or any relevant personnel to help, but don't be afraid to think outside of the box.
Practice, practice, practice: Your speakers may be excellent, but ensure they rehearse. And it's best to get them to do so on the platform you're using so there are no surprises on the day.
Follow up with your audience: Your job isn't done just because the event is over. To convert those attendees into students or buyers, have a comprehensive follow-up strategy in place. This may be email, follow-ups from recruiters or agents, or even a follow-up event.
Virtual Open Day Examples
What does a virtual open day actually look like? Here are a few examples from the world of WorkCast.
Durham University Business School
Founded in 1832, Durham University Business School (DUBS) is ranked in the top 100 universities in the world. Consisting of 16 colleges, 25 departments and over 175,000 students, Durham University's international alumni spans over 100 countries worldwide.
The main goal for DUBS' university virtual open day was to break down geographical barriers, and extend their reach to prospective students around the UK and internationally.
In the end, DUBS exceeded their registration target by 36% with their virtual open day and over 60% of registrants engaged with the event. It was also able to extend its global reach, with 26.5% of registrants coming from international students (i.e. outside the UK and EU).
Seneca College
The Toronto, Canada-based Applied Arts & Technology Institution has 10 campuses throughout the Toronto area, with over 30,000 full-time students and tens of thousands of applications every year.

Using a virtual open day, Seneca College created an orientation event that was easily accessible to new starters on a global scale, so students could access the event wherever they were in the world.
The result? The college exceeded their targets for audience interactions and attendance rates for the event, with over 1,238 registrations, a 72% attendance rate and over 370 questions were asked throughout the day.
Now you know the who, what, why and how of hosting virtual open days, you can transition your in-person university or college open days to inclusive online events and open your doors to international audiences.
Download our free eBook to learn everything you need to know about planning, hosting and promoting virtual open days.

Learn how to run incredible virtual open days with our Complete Guide To College Open Houses.