Everyone knows that webinars are an effective tool for communication, lead generation, and thought leadership. However, people don't often realize that webinars are the perfect tool for training.
Gone are the days of full-day staff training, complete with awkward icebreakers and trust falls. Instead, more and more businesses are using webinars for training purposes.
Whether you're conducting external training, upskilling your team or running onboarding training for new team members, webinar training courses offer businesses more flexibility, increased efficiency and empower participants to take control of their own learning and development.
Why use webinars for training?
While there is always a point to be made about the benefits of team building exercises and traditional classroom-style training, there are many advantages to going down the route of conducting webinar training.
1. Cost Effective
By conducting a training session online, rather than in a formal classroom setting, you'll be reducing costs. From selecting the trainer to organizing a venue, catering, handouts and not to mention travel for those who may not live locally, you'll be cutting the spend of your training considerably by conducting it online.
2. Increased Productivity
Opting for a webinar training course, rather than traditional training methods, will help to increase staff productivity. With no travel time needed to and from the training venue, attendees can get started as soon as they click 'attend'. Therefore, less of their time is taken up by the training, so it will be completed sooner.

Webinars commonly last for 60 minutes, so you can pack a lot of information into this short window of time. This also means that if you're delivering training to group of busy professionals, they can fit the training session into their work day, or even attend the course over their lunch break.
3. Increased Engagement

Despite common misconceptions, webinar training can actually increase attendee engagement. Without the distractions of a physical environment and their peers, attendees are encouraged to engage and interact with the training material via polls, surveys, Q&A chats and more.

And, with screenshare, audio, PowerPoint presentations and video functionality, webinars are ideal for engaging all the different types of learning styles - whether that be visual, auditory, kinesthetic and reading/writing learners.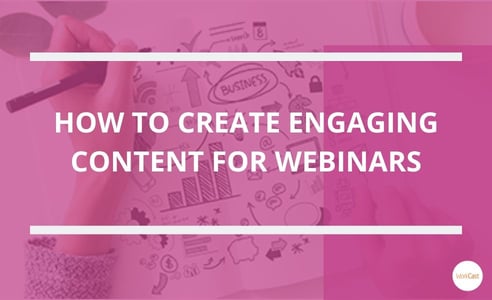 4. Foster a Relaxed Learning Environment
eLearning will not only improve productivity and engagement, but it will also help foster a more relaxed learning environment.

Many people feel a little intimidated in a room full of their peers - especially those who are more introverted. Online learning environments eliminate that pressure, as people are simply interacting with the training material over the computer.
5. Long-Life Training Content
The great thing about webinar content is that it can be archived and made available on-demand for attendees long after the live event has ended.

The same holds true for training webinars. There is no reason you shouldn't email a link to the on-demand version of your training webinar following the initial event, so that they can revisit the presentation and brush up on their knowledge at a later date.

This also means that if you're using webinars to deliver onboarding training, then you have evergreen training collateral that you can simply share with new team members, which saves you time and money.
6. Sustainability
In the UK, the average office worker uses 10,000 sheets of copy paper each year, which is roughly equivalent to the amount of paper produced by one tree. Taking meaningful steps towards paper reduction not only helps your bottom line by reducing office supply and printing costs, but it is the more sustainable option.
Most webinar platforms provide you with a resource section, which allows you to provide attendees with links to supporting documents and resources that will further aid in their learning. Relying entirely on digital documents allows you to update the resources at any time, ensuring that everyone has access to the most relevant and up-to-date training information, while also reducing your environmental footprint.

7. Accessibility
Investing in webinar-based training programs allows you to create accessible, inclusive training programs that will meet the needs of your current and future employees. The Web Content Accessibility Guidelines provide a comprehensive set of recommendations to help you create training content that is accessible for people with a wide range of disabilities and should be considered when creating any training program. Unlike in-person training environments, webinars allow employees to personalize their experience and use online tools to adapt the content to meet their individual needs.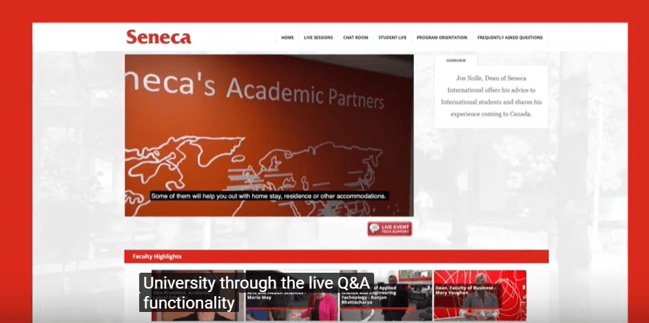 A few examples of how webinars can help create a more inclusive training environment for your employees include:
Ability to apply subtitles to the training videos to help overcome language barriers
Ability to download transcripts of the training or using Closed Captioning during the training for Deaf or hearing impaired employees
Training can be offered in a private environment where employees with differing mobilities can use voice-to-text software to help take notes during the training
A digital environment can adapt and change to meet the individual needs of your employees much better than a physical space and should be used whenever possible.
How to Create a Webinar Training Course
Now you understand some of the many benefits of conducting webinar training, I'll outline how to create a comprehensive webinar training program.

Firstly, you'll need to define what format your training sessions will take, as this will inform the webinar platform you choose and the type of content you'll include in your presentation. Some of the main webinar training session formats include:
Lecture-based training: which involves mostly one-way communication, where the trainer presents to attendees. However, the trainer will allow time throughout and at the end for Q&A.
Virtual classroom training: this type of webinar training involves the use of traditional webinar presentations, combined with interactive tools, such as videos, polls, Q&A, breakout rooms and more.
There are no clear rules on how to format your webinar training. You can opt for a lecture, virtual classroom, a mixture of the two, or something different entirely - as the most important thing to focus on is creating engaging, valuable content for your participants.

This leads nicely to the next step, which is to plan and create all of your content and training collateral. Once you have all of your training material, you can start creating your PowerPoint slides. Be mindful of the different learning styles, so you will want to include a variety of material, for example:
Engaging, illustrative videos for visual learners, as they prefer to see the information
Q&A or calling for audience answers throughout the training for auditory learners, who prefer to hear information
PowerPoint slides with content or quizzes for reading/writing learners
Surveys and polls for kinesthetic learners, as they learn best by doing
Once the content is nailed down, you'll need to set a time, date and start promotion for your webinar training session. This also means you will need to create your event landing pages, including the: Registration Page, Thank You Page/Confirmation Page and Auditorium.

In these emails and on the landing pages, you will need to clearly define when the training will take place, what the topic of the session is, who will be presenting the training, how to register for the event and what people will gain from attending. If the training is mandatory, then it's also worth making this clear in all promotional material.

Finally, once you have conducted your initial webinar training session, I always advise that you send attendees a follow-up email requesting feedback. Gathering attendee feedback will not only allow you to identify ways in which you can improve your training for future participants, but it enables you to demonstrate value (especially if a company is considering reducing their training budget).


Still wondering how you can transform your training program with webinars? Speak to one of our experts about how we can help you reach your business goals with webinar training, or check out our free eBook The Ultimate Webinar Handbook.