6 min read
Nov 27, 2020
A virtual job fair is a virtual event that allows employers to connect with job seekers in an online environment, rather than a physical one. With geographical, financial, and venue capacity barriers removed, virtual job fairs attract up to 7 times more attendees than in-person events.
While this is great for the companies and hosts, it also means you're competing with 7x more candidates for time, information, and job opportunities.
So how can you stand out from the crowd in an online environment? Here are 5 quick tips to help you increase your chances of success at a virtual job fair.
1. Test your wifi connection
In order to get the most out of a virtual job fair, you need to ensure your internet connection is stable. You can test this by running a quick internet speed test using a free tool like the one by Google.
Your internet speed will have a direct impact on your overall job fair experience and the impression you're able to make on recruiters. This is especially important if you plan to attend a breakout session or have one-to-one meetings during the virtual career fair. If your video quality is grainy or glitchy, you'll be forced to address and discuss the technical issues during the first crucial minutes of your meeting rather than focus on making a great first impression. Running a test to identify potential WiFi issues ahead of time allows you to purchase a WiFi booster or test streaming to your phone via mobile connection ahead of the event to overcome this obstacle.
2. Update your resume
In 2020 there is no excuse for not using a designed template for your resume. Even if you don't have design experience, or you aren't applying for jobs in a creative field you should be using a designed resume template to help you stand out from the crowd.
Color, graphics, charts, and breakout quotes on your resume communicate large amounts of information to recruiters in a short amount of time. It also helps showcase your personality and gives insight into who the person behind the qualifications is making you more memorable to recruiters.
This is especially important now given the number of people who have been laid off or lost their jobs due to COVID-19 and will help improve your chances of being noticed and selected for an interview.
Free and affordable resume template recommendations:
Etsy - Beautifully designed templates that usually cost a few dollars to purchase and can often be downloaded in InDesign or Word versions.
Canva - Free design software that has templates available for resumes and covers letters. You just need to create an account.
Google Slides - When I didn't have access to Word or InDesign licenses on my laptop I've used Google Slides to create my own template for a resume based on a design that I saw online and really liked. Just be sure to use the ruler tools to keep everything aligned and download it as a PDF so that it is scannable by any recruiting software people are using to help sort applicants.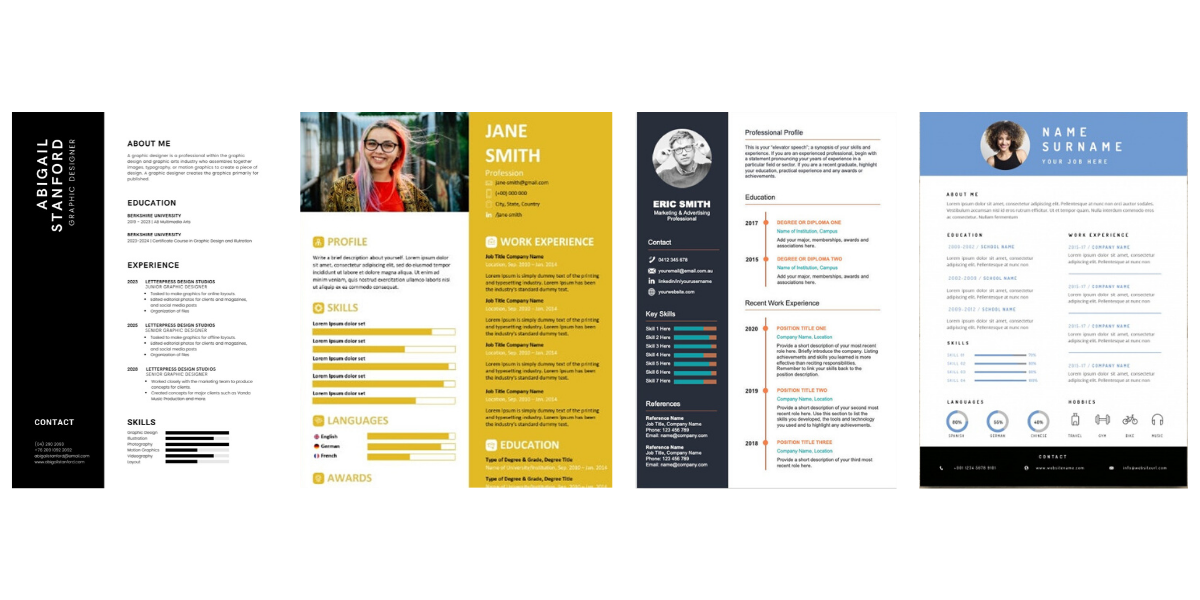 A quick tip: When choosing a color and template, pick one that suits your personality. If you're quiet and reserved, use a template that is clean and simple, but polished. If you're more outgoing, you can use a bold template that hints at your personality. Always look for templates with sections for breakout stats where you can highlight your biggest wins. People absorb more information from images than words so you're increasing your chances recruiters will remember these highlighted points on your resume by portraying them graphically.
3. Ask memorable questions
When people are forced to process large volumes of information or interact with hundreds of people at the same time they will usually only remember the really good and really bad experiences. One of your best chances of becoming memorable during a virtual job fair is the ask a question feature, but you need to use it strategically.
Question don'ts:
Even if you have a million questions, this is not the time to ask all of them. Bombarding recruiters with questions in an attempt to get noticed makes you look unprepared and honestly, a little bit selfish.
Avoid questions that are unrelated to the topic of their presentation.
Never ask questions that the person has already answered or one that you can easily find the answer to with a quick google search or by checking out the resource section of their webinar.
Don't frame your question in a negative light. For example, instead of asking why this role is vacant right now, ask what new ideas or skill-sets are you hoping to bring into this role/team with a new hire.
Don't ask generic questions you found in a blog post about the best questions to ask during virtual job fairs online, they'll know where you found it.
Question do's:
Ask thoughtful questions that require thoughtful answers. If your question takes two seconds for the recruiter to answer, it won't be memorable. But if you ask something that requires the recruiter to pause, think, and come up with their answer you are more likely to be remembered in a positive light.
Ask about opportunities to add value beyond the job description to highlight your technical skills or soft skills. For example, if you're applying for a project management position at a software company, you could ask a question about how the team currently keeps staff in other departments updated and excited about the progress of the project, and whether this is something they'd like to improve or enhance. This question is strategic because cross-departmental communications is always an issue at companies, and is almost always something higher-ups want to solve but don't have time to tackle. Highlighting it shows that you might have some skills or experience in this area that could be of value to them beyond the basic requirements posted in the job description.
Check the company's recent press releases or news articles to find out what is new and exciting at the organization. You may be able to work this into your question if the position has overlapped with their recent innovation, project, or change highlighted in the press.
Incorporate their own descriptive language into your question when possible (hint: look at quotes from high-ranking executives on how they describe the company, core value statements, and even their social media account descriptions to find the keywords they will want to hear).
Stay focused on the future and growth to show that you've got a long-term mindset with this opportunity and company
4. Engage with the resources
Virtual job fair platforms provide the hosts with robust reporting metrics and reports that can drill down to attendee-level data. This means recruiters will know exactly how long you watched the presentation for, whether you answered the poll questions if you asked a question during the event, and how many of the resources you clicked on, downloaded or viewed in the resource section.
So if you're going to attend a virtual job fair and are genuinely interested in the position or company hosting a session, make sure your actions and engagement reflects your interest level. This will help you receive a good engagement score and stand out from the crowd.
5. Say thank you
If you were chatting with a recruiter in person you would always thank them for their time and for speaking with you before walking away and ending the conversation. Just because a virtual job fair is online, doesn't mean you can skip that step.
Sending a quick thank you message to the presenter through the online platform is the absolute minimum you should be doing. You can take it a step further by sending them a thank you email or LinkedIn message to let them know you appreciated their time and would love to chat further. Be sure to include your resume as an attachment in the thank you emails so they don't need to look for it in their overflowing inbox.
Searching for a job can feel demoralizing even during times of economic growth, but don't get discouraged. Take these steps to help you stand out from the crowd when applying to jobs online and look for virtual job fairs being hosted by companies outside of your town or city. A lot of companies are hiring remote positions now due to COVID-19 which may open you up to more opportunities than you had previously.
Good luck!
Learn more about virtual career events in our free eBook: A Complete Introduction To Virtual Job Fairs.