Taking your university or college Open House online allows you to reach more people, reduce your costs, and increase the ROI of your event by re-running it as a Simulive event in the future with minimal additional effort.
Virtual open houses are clearly advantageous for universities and colleges, but what do students think?
90% of students say that they would like to engage online with a college before visiting.
Even before COVID-19 forced everyone to adopt technologies for meetings, events, and catching up with friends, the demand for online content and open house events was on the rise. While there is an obvious demand for hosting your open house virtually, this does not mean that just taking your event online will be enough to make it an instant success.
A successful virtual open house requires a lot of planning and preparation, which is why we have compiled the 7 essential steps to make the most of your college or university open house and stand out from the competition.
1. Prioritize Your Goals
Your open house event will consist of several mini-events which can take place on the same day, or be spread across multiple days. You can run sessions as live, Simulive, or On-demand events and decide whether you'll include Q&A sessions, audience chat features, integrations or other engagement opportunities in each event. There are a lot of decisions to make, so you must prioritize your goals in order to run a successful open house.
⟶ Virtual Open Days: Who, What, Why & How?
Common Open House Goals
Number of registrations - The total number of students, parents, and interested leads that register for your event.
Attendance rate - The percentage of registrants that attended the session you ran during your Open House.
Attendee engagement score- A score that is automatically calculated by the WorkCast platform to determine how engaged your attendees are by analyzing the number of asked questions, polls answered, the average duration attendees watched and more.
Attendee conversion rate - The number of open house attendees that convert into enrolled students or paying customers.
One you determine your goals and prioritize them, you will be able to design your event and supporting campaign to achieve those goals.
2. Work Closely with your Event Provider
Working closely with your virtual event provider is imperative to the success of your college open house. We recommend requesting a kickoff meeting or call with your platform provider in the early stages of planning your event to ensure that your goals and plan are aligned with the features and functionality of the platform.
Managing expectations from the start is always important, which means clearly outlining what you need from your provider and both agreeing on set timelines for delivery. Also, try to be realistic in your expectations, as virtual open houses often take 2-3 months to plan and build, so make sure you brief your provider with plenty of lead time before you plan to run your event and give yourself buffer time, just in case you run into any issues.
3. Adopt a Multi-Channel Approach
Create a multi-channel promotion schedule for your virtual open house at least 6 weeks out to generate awareness about the event and drive maximum registrations from prospective students.
Use all possible channels to promote your event, including email invitations, social media posts and targeted paid campaigns on social and pay-per-click to ensure you attract your target demographic. You should also utilize organic channels by creating SEO-optimized blog content, landing pages and website banners for your event to attract registrants from search engines, like Google and Bing.
Creating a promotion schedule during the planning stage of your open house will ensure consistency across all of your channels - especially when it comes to branding - and consistent branding across all channels increases revenue by 23%. In fact, it's now expected that brands and institutions, like colleges and universities, maintain consistent branding across channels to build trust and awareness, which is essential for driving registrations when promoting your virtual event.
⟶ Virtual Events Vs. In-Person Events: Why You Should Host Your Event Online. Read more.
4. Widget Integrations
Most virtual open house platforms will include interactive features, such as live chat, polling and more. However, there is scope to create an even better user experience for prospective students by integrating your event platform with custom widgets, such as social media feeds, tag management solutions, video, Q&A and polling apps and more.
Custom widgets allow you to integrate with external systems and bring information from these systems into the Workcast platform, so you can enhance the event experience. For example, you can integrate the WorkCast platform with EventMobi to create image links for presenters and sponsors, event countdowns, Google Maps, event agenda or schedule and Gamification challenges.
Other custom widgets may include: Sli.Do, Google Tag Manager, Vimeo, Juicer and more. However, the widgets you can use all depend on the platform you choose and this is something you can discuss with your provider during the early stages of your event plan.
5. Test, Test, Test
You wouldn't publish an academic paper without proofing it beforehand and the same applies to your virtual open house.
Prior to the event you will want to thoroughly test elements such as audio, video, media, links, content and navigation, to make sure that everything is working as it should and ensure that the open house runs smoothly on the day.
By running multiple tests before the event, you can resolve any issues quickly and improve the user experience for attendees on the day. People make a judgment about you and your brand, or in this case your institution, within 90 seconds, so it's imperative that you provide a good user experience from the start. Failure to do so could result in your college or university looking unprofessional and leaving prospective students with a negative impression of your institution. So, by tasking a team to test the open house environment and proofread all content, it's worth it in the long run.
6. Make your Event Accessible to Everyone
One of the main advantages of hosting your open house online is that it increases the accessibility, so people can attend wherever they are in the world, on any device with access to the internet.
But, if you're looking to make your event as inclusive as possible, this means that you should consider those with visual and hearing impairments in mind when designing your virtual open house. How can you do this?
Incorporating on-screen text narration for attendees with visual impairments
Allowing attendees to adjust the colors and font sizes to suit their needs
Including closed captions on your webinars and video content for people with hearing difficulties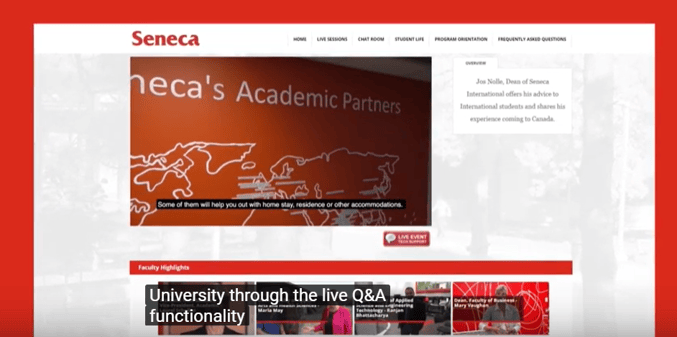 Ensuring that your event caters to everyone will increase your pool of attendees and improve the event experience for all attendees. If you're looking to include these accessibility features in your next virtual open house, then we advise speaking to your virtual event provider during the planning stage to understand how they can support you in making your event more inclusive.
7. Follow Up with On-Demand Content
Just because your virtual open house is over, doesn't mean that you have to stop interacting with attendees.
In fact, this is the ideal time to follow-up with prospective students with a 'thank you' email and a link to any on-demand content or additional resources. If your event included live webinar presentations or webcasts, then you can embed these on your website for viewing later and continue to promote it to prolong its shelf life. As long as the content is valuable, you can keep leveraging it as a resource for prospects.
Giving prospects access to your on-demand content also gives those who were not able to attend the live event the opportunity to view it at their leisure, which means your college or university may gain more leads and student applications with minimal extra effort.
Download our free eBook to learn everything you need to know about planning, hosting and promoting Virtual Open Houses