The key to building a successful webinar starts with finding the perfect topic. In marketing the best way to do this is to seize the moment, or jump on a trending topic while people are still talking about it, so it will resonate with your audience and generate buzz.

Keeping your finger on the pulse of worldwide trending topics using platforms like social media and Google is an important way for brands to join the conversation as they happen and to stay ahead of the competition.

Previously, you could stay up-to-date on world news by simply reading the newspaper or watching the news, but the evolution of the internet has meant we are constantly flooded with information and it's difficult to keep up with the latest trends. This is why we have compiled a list of 8 ways to uncover the latest trending topics while they happen, so you can use them to craft your next webinar.
1. Twitter
It's not surprising that Twitter is considered the top way in which to discover trending webinar ideas, as the term 'trending' actually originated on Twitter, thanks to the use of hashtags.
Twitter first brought trending topics to public consciousness by hosting popular trends on their homepage and profile page and it still remains the best platform for identifying political and cultural trends. You can search through the hashtags to find worldwide or country-specific hashtags for inspiration, while also gaining the 'general mood' around a topic from the up-to-the-minute content on your Twitter feed.
You can also use Twitter Moments to discover the latest trends, however, these are curated so they will likely include the biggest news stories of the day.
2. Google Trends
Google Trends is another dedicated tool you can use to uncover the latest trending topics around the world. Similar to a search engine, you can search any keyphrase or query in the search bar and access the search volume it has received over time.
You can get as granular as you need to with Google Trends, as you can filter by date, country, category (e.g. Internet & Telecom) and type of search (e.g. web, image, etc).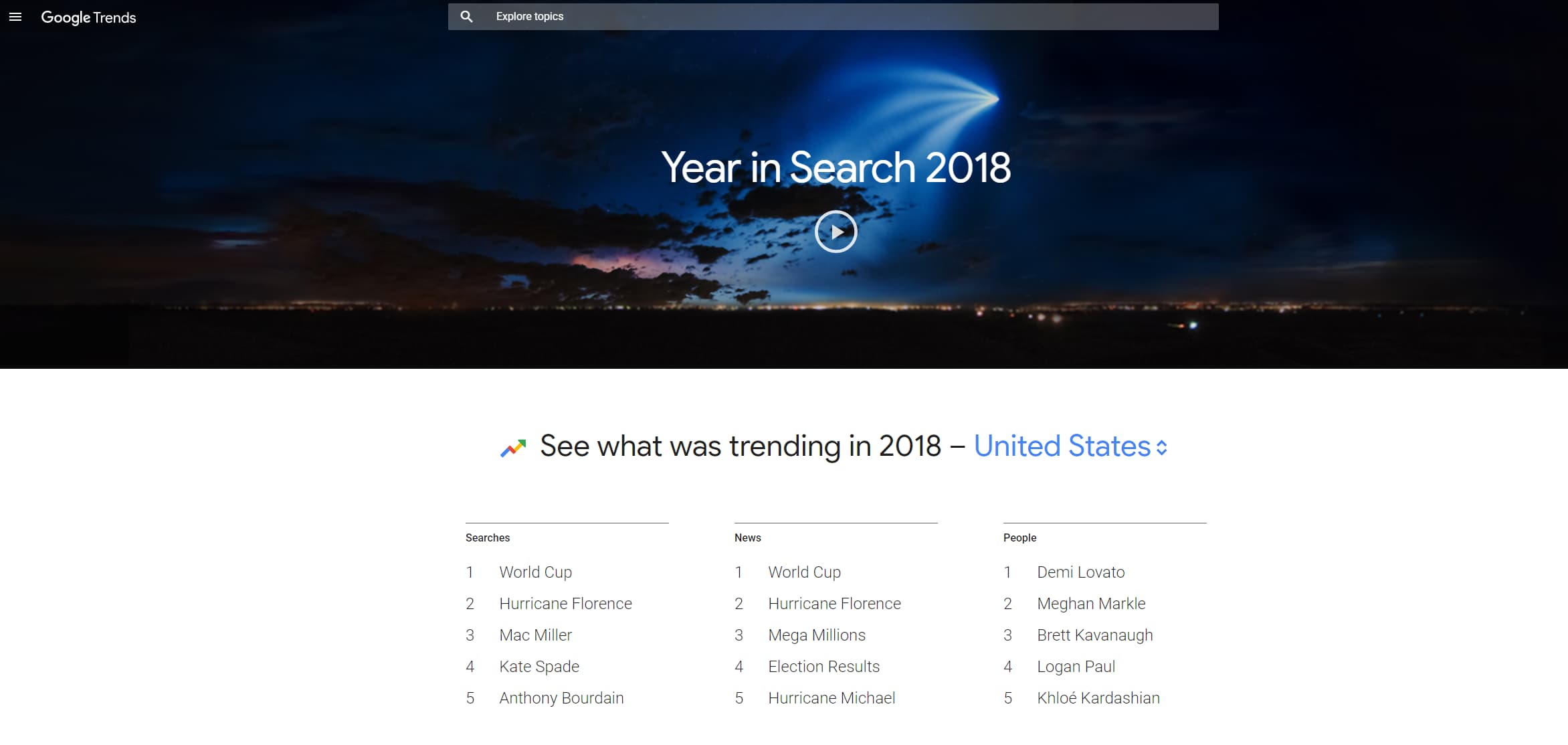 Once you have completed your search, Google will display a trend graph for your chosen query, as well as a heatmap of your selected area, list of related topics and related queries - all of which are downloadable in CSV format.

| READ MORE Learn how to conduct webinar keyphrase research for SEO
However, if you're still not sure what topic to choose for your webinar, then you can always visit the Google Trends homepage, as the dashboard displays the latest trends, insights and recently trending topics at a glance. This is a great place to start if you're just looking for inspiration or a news hook for your webinar content.
3. BuzzSumo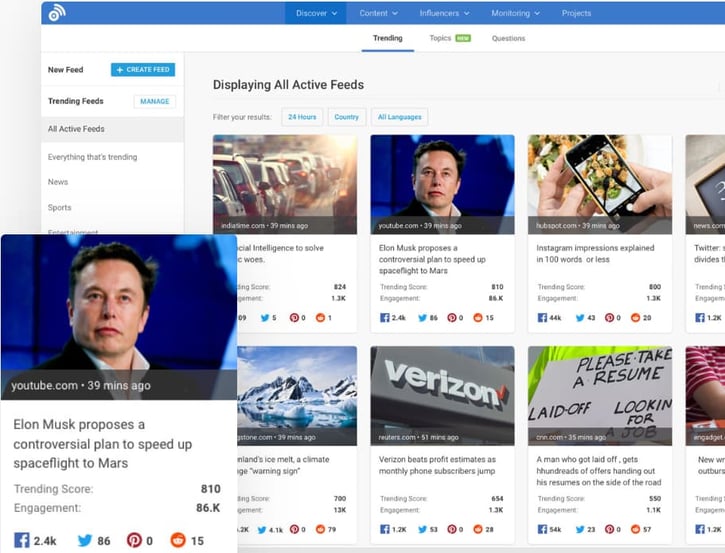 BuzzSumo is a content marketing tool designed for finding popular and trending content, influencers, engagement and backlinks.
Providing content "ideas at your fingertips", BuzzSumo allows you to monitor the latest trends and topics using their Trending feed. All stories within this feed are organised into categories and given a trending score, so you can see how quickly they are being shared.
You can also search for keyphrases and topics within this tool to find the top-performing blogs and articles across the web in terms of social engagement on popular platforms, like Twitter, Facebook and Reddit. This will give you a good indication of the types of topics and terms to use if you're looking to encourage engagement on social media during the promotion stage of your webinar strategy.
4. Reddit
You can't go hunting for trending topics in the wild west of the internet without checking out Reddit. As Reddit is all about user-generated content that can be upvoted or downvoted, you'll find a treasure trove of trending stories on Reddit.
Reddit's Popular feed features advanced filtering that allows you to filter by country, as well as 'hot', 'rising', 'top' and more, so you can narrow your search and find a topic that is relevant to your audience. There is so much content on Reddit that the amount of traffic that flows through the site has been known to give sites the "Reddit hug of death", which is where too many people try to access a site at the same time and cause it to crash.
5. Trending on BuzzFeed
"Buzzfeed?" You might ask. Although it's a name that has become synonymous with clickbait articles, memes and quizzes, BuzzFeed's Trending section is a great way to stay updated on pop-culture trends.
It may seem perplexing, but this is the digital publication that 'broke the internet' when they posted the viral image of The Dress and the whole world questioned their reality for a few minutes (it was white/gold, just to clarify), so it's always worth a look during the planning stage.
6. YouTube
YouTube highlights trending videos, which you can access in the menu on the left-hand side of the homepage. You can filter by category, such as music, gaming, etc. and narrow your search even further by filtering by country to see what is trending in other countries around the world.
7. Feedly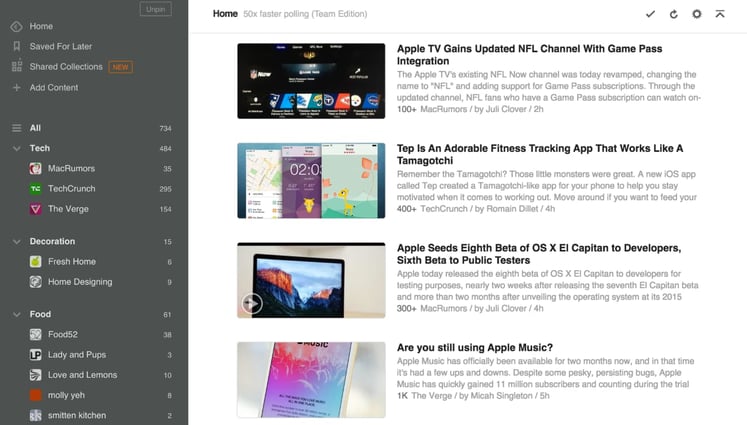 Feedly is the most popular RSS feed aggregators of choice for people since the downfall of Google Reader. It works by funneling content from various sources into one feed - given that they have an RSS feed - so you access them in one place without having to navigate to each and every site.

If you're not already using Feedly, then we highly recommend doing so, as you can follow all of your favourite publications and keep an eye on trending topics. You can also set keyword alerts, so that you never miss a trend or story involving the tracked brand, industry or category.
8. Quora
Quora is another outside-the-box source for trending topics. It provides members with personalized feeds and encourages them to answer questions in their areas of expertise.
With a mission to "share and grow the world's knowledge", Quora is a massive database of questions and answers. You can find the most popular content on Quora by navigating to the Top Stories feed, or can use the search function to find the top results for a specific term or query, based on comments, shares and votes.
With a variety of unique features and capabilities, each of these 8 tools can be used to help you find a trending topic for your webinar. During the planning stage, you never know when inspiration will strike and the metaphorical light bulb will switch on, so experiment with using some (or all) of these tools to find the right one for you and your business.
Get more awesome advice from our own webinar experts. Register for the webinar,
Ultimate Webinar Cheat Sheet

today.