When one of our best customers told me: "we want to run webinars in HubSpot not on your webinar platform", I felt pretty deflated. Webinar platforms are what we do after all!
She went on to explain: "Webinars are brilliant for us. We get amazing engagement and we use them at all stages of the funnel, but creating a seamless, consistent experience for our attendees can be a lot of work. Then there's even more work getting all the data integrations working properly, and even then it's pretty basic data we get back into HubSpot. We were chatting and just thought that the webinar should be 'in HubSpot' - then we treat it like any other campaign: form conversion, some emails, and onto a landing page at the right time - all the data and activity right in HubSpot immediately."
Initially, she tried out this concept using a pre-recorded, on-demand webinar embedded in a landing page. While this created a good user experience and was less work, the webinar attendance and, most noticeably, engagement were terrible compared to all the live webinars they had previously run.
As a HubSpot Professional user and passionate advocate, I did a bit of soul searching, navel gazing and denial, and I eventually concluded…our customer was right. After some whiteboarding and testing I eventually came up with a really simple webinar structure that could really be *in* HubSpot.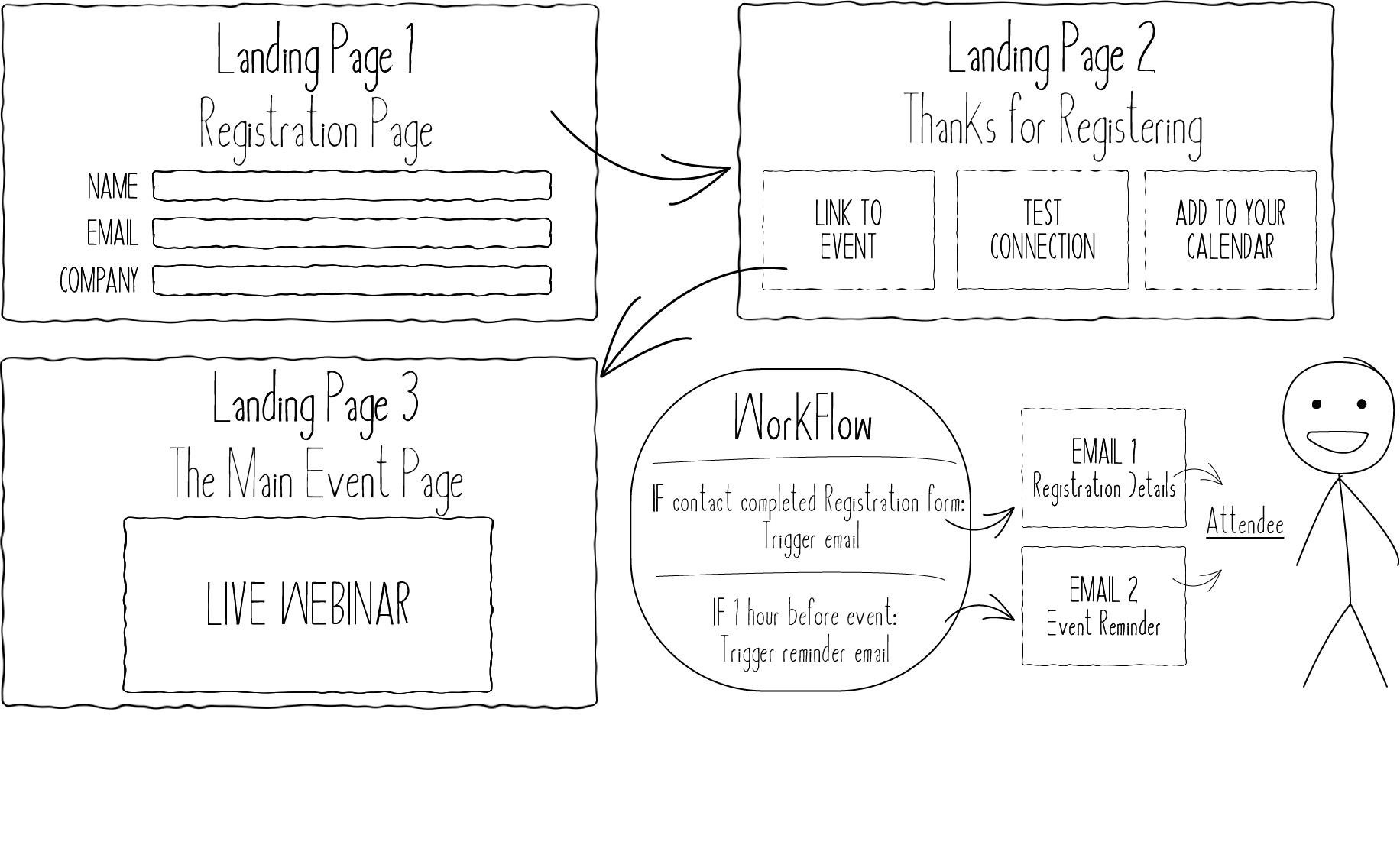 During this work, I also realized there were a whole lot of reasons this was an outstanding solution for HubSpot users. Here are my top 10 reasons:
1. GDPR
If you use HubSpot to help your business conform to GDPR, then using HubSpot natively to collect and manage registration and attendee data ensures GDPR compliance.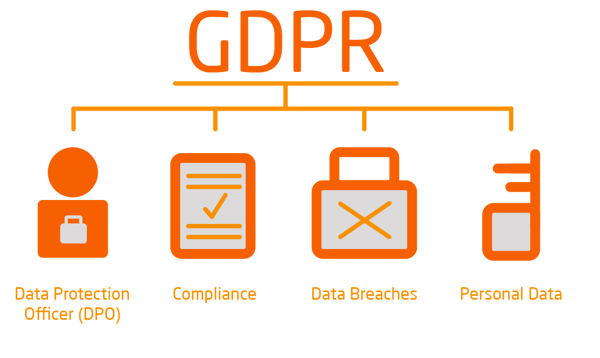 Tip: If you're looking for some advice on how to navigate the post-GDPR marketing landscape, check out our on-demand webinar.
2. Personalize experience
HubSpot landing pages have exceptional personalization features. By keeping the webinar on a landing page, the full experience can be tailored to the individual. Attendees can be greeted by name, and localized information like time zone can be personalized.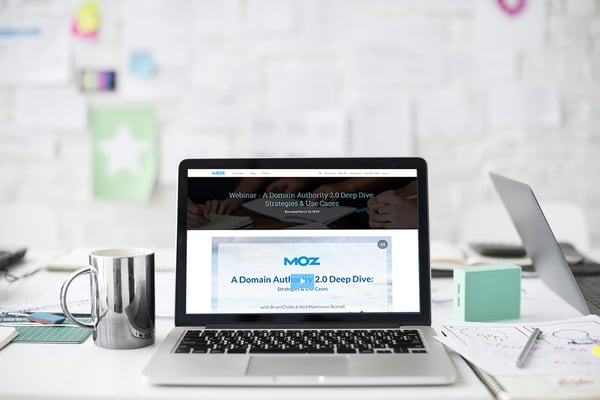 According to HubSpot, personalized content does 178% better than generic content. The HubSpot CRM and CMS allow you to customize nearly all of your content (landing pages, registration emails, CTAs) based on a myriad of criteria - from name to country to referral source to lifecycle stage.
3. Data and progressive profiling
Webinar registration is a great opportunity to extend and expand the dataset you have for contacts. The 'contract' for webinar attendance (data for attendance) is well understood, so there is a willingness to provide data that is not generally there for other types of conversion forms.
This type of profiling is not just great for marketers, but also your sales teams. With the data at their fingertips, they can identify 'hot' prospects and nurture them accordingly.
4. Keep them on your site
Sending valuable website traffic off to a 3rd party webinar platform is unnecessary. Webinar platform vendors have somehow convinced us that this is necessary in order to run a webinar. That was true 10 years ago, but it isn't now, so why send your attendees on a one-way trip to a 3rd party tool?!
5. Data Integrations tend to be flaky!
Data integrations can be valuable but they are often slow to update data and don't have full datasets. They also stop working occasionally, causing a raft of issues. By pushing the data away from HubSpot, you make it necessary to use a data integration to bring the data back… crazy!
6. Timeliness
We all know that acting on data quickly is really important. If you want to trigger tasks to your Sales teams you don't want any delay in that process. Only by having the data natively in HubSpot can you ensure you get the it immediately and with the level of detail you need to share with Sales.
A Lead Management Study saw a staggering 400% decrease in the odds of qualifying leads when the Sales team waited 10 minutes or more to follow up. Waiting around for your webinar platform to talk to your CRM, therefore, is not really an option.
7. Website/brand consistency
Most webinar platforms allow very limited control of the attendee experience. Keeping attendees on a traditional HubSpot landing page ensures the experience can be as good as any other landing page or website page.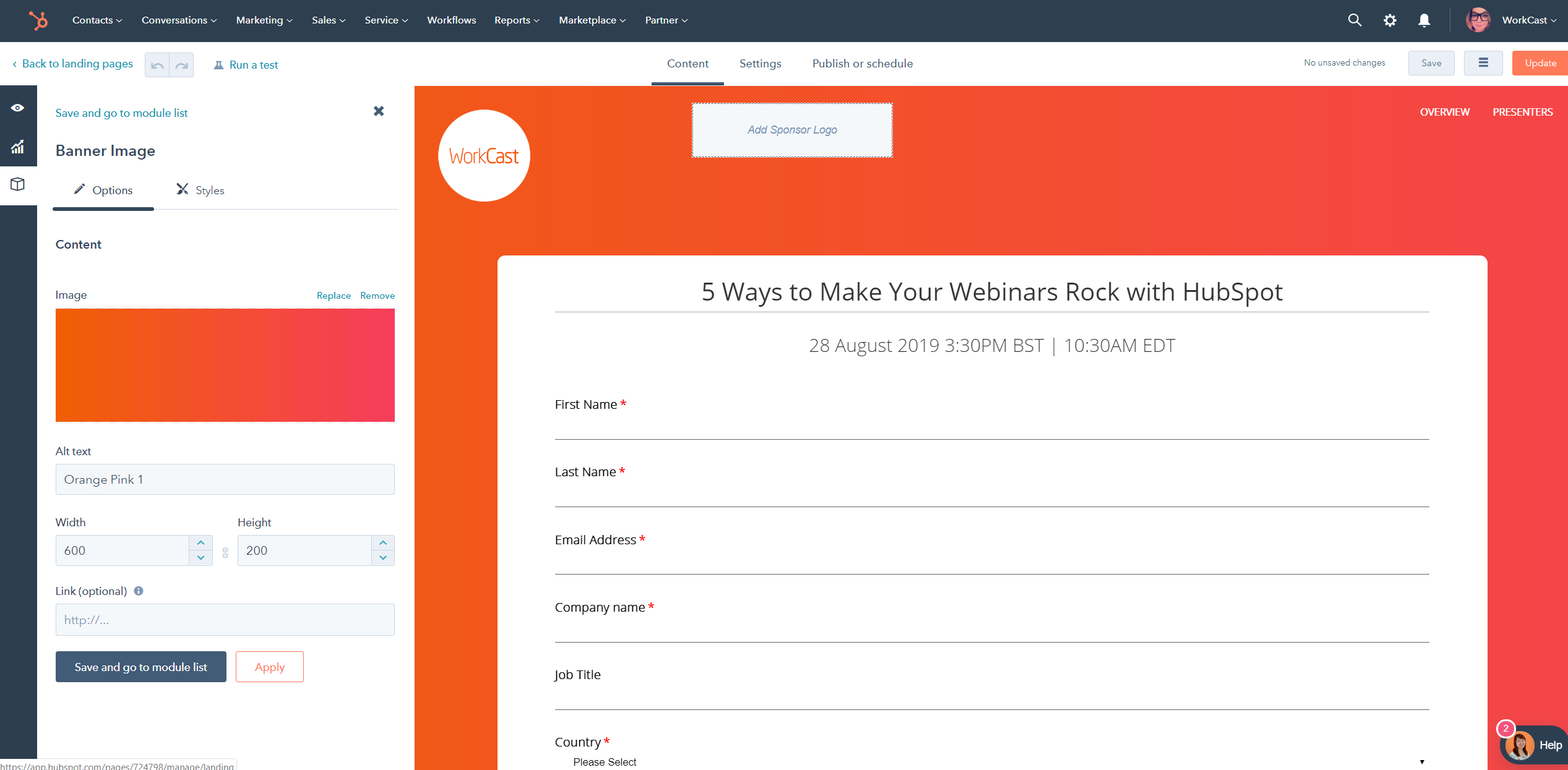 Brand experience relates directly to a positive customer experience, and this is directly related to revenue. When customers have a positive experience on your site or at your event, they are likely to tell others about their experience. And guess what? Businesses are increasingly reporting word-of-mouth as the most important source of referrals. So, ensuring your webinar experience is on-brand is more than just aesthetics.
8. Too many tools in marketing
By keeping your attendee experience, workflows and data in HubSpot, you can ensure that your Marketing team don't spend time learning new tools to configure webinars. Using your in-house experience of HubSpot to setup and run webinars minimizes the features used of the 3rd party webinar platform, you therefore keep skills and time focused on your core webinar goals.
WorkCast has been using HubSpot since 2015 and we are a great example for how a company can grow with HubSpot. We had Salesforce for Sales Automation and the rest of our work was pretty manual and siloed. Our marketing and sales tools didn't talk to one another. We now have Sales Automation, Marketing Automation, Landing Pages, Live Chat, a Knowledge Base and support desk running on HubSpot and all of these disparate elements are truly connected.
9. Track your webinars like any other type of campaign activity
When you run your webinars in this way, all the registrations, attendance and activity can be tracked as an integrated part of your campaign. This means that all of your marketing activity - email, social, paid search, blogs - can be bench-marked and tracked together.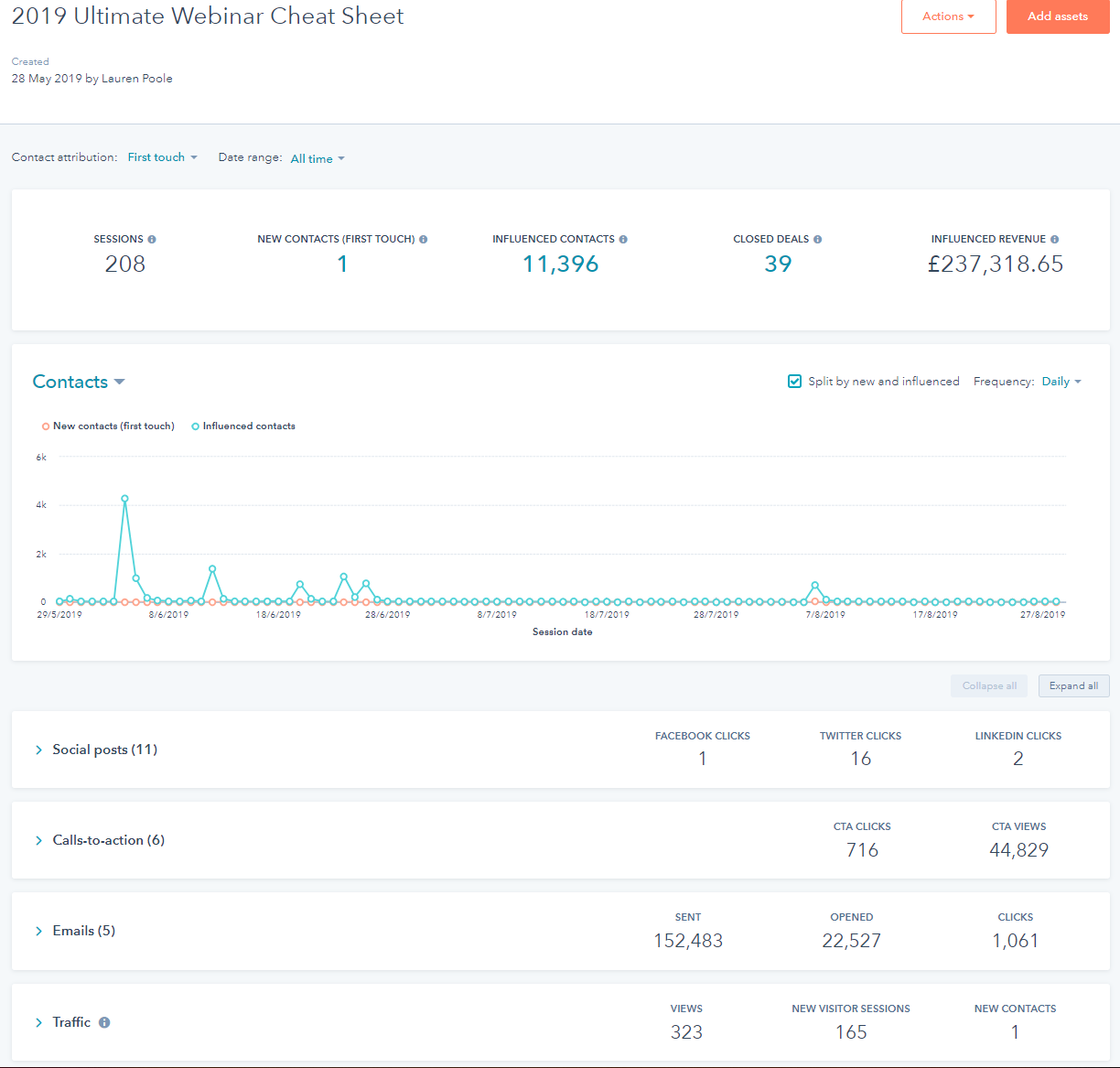 One simple view of the campaign helps you understand your ROI and general webinar program health.
10. Create dashboards
Finally, not seeing webinars as an integrated part of your dashboards is really frustrating. For any organization taking webinars seriously, you just miss a huge chunk of the data visualization and therefore understanding of your contacts.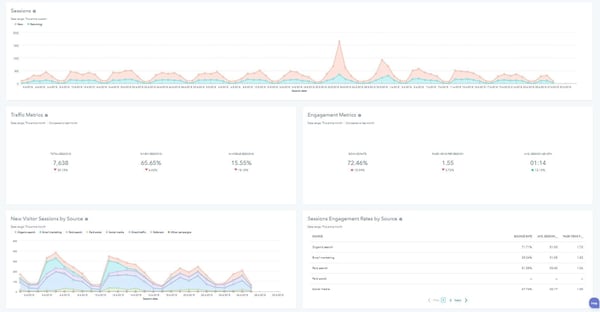 Marketing is as much about data these days as it is about creative output. Marketers need to know how their campaigns are doing in order to determine what is working and what isn't, and they don't have time to spend trying to locate all of the information they need. With HubSpot dashboards, you can bring all of the relevant information together into one convenient place.
Bonus reason: WorkCast for HubSpot has a great registration workflow
WorkCast's HubSpot integration has always been powerful, however, due to recent changes in HubSpot account infrastructure, our team identified an opportunity to improve the platform-HubSpot registration process.

Prior to the updates, the WorkCast platform and HubSpot CRM spoke to each other using a Webhook action. This wasn't ideal, however, because it sometimes required a lot of repeated, manual setup and knowledge about APIs for the end user to understand. There was also the issue of some HubSpot accounts not allowing webhooks.

The process now utilizes what's known as a HubSpot Workflow Extension, providing a seamless experience automating work between HubSpot and other services. This means that for all HubSpot Professional and Enterprise users, the registration process is quick, easy and more importantly, automated.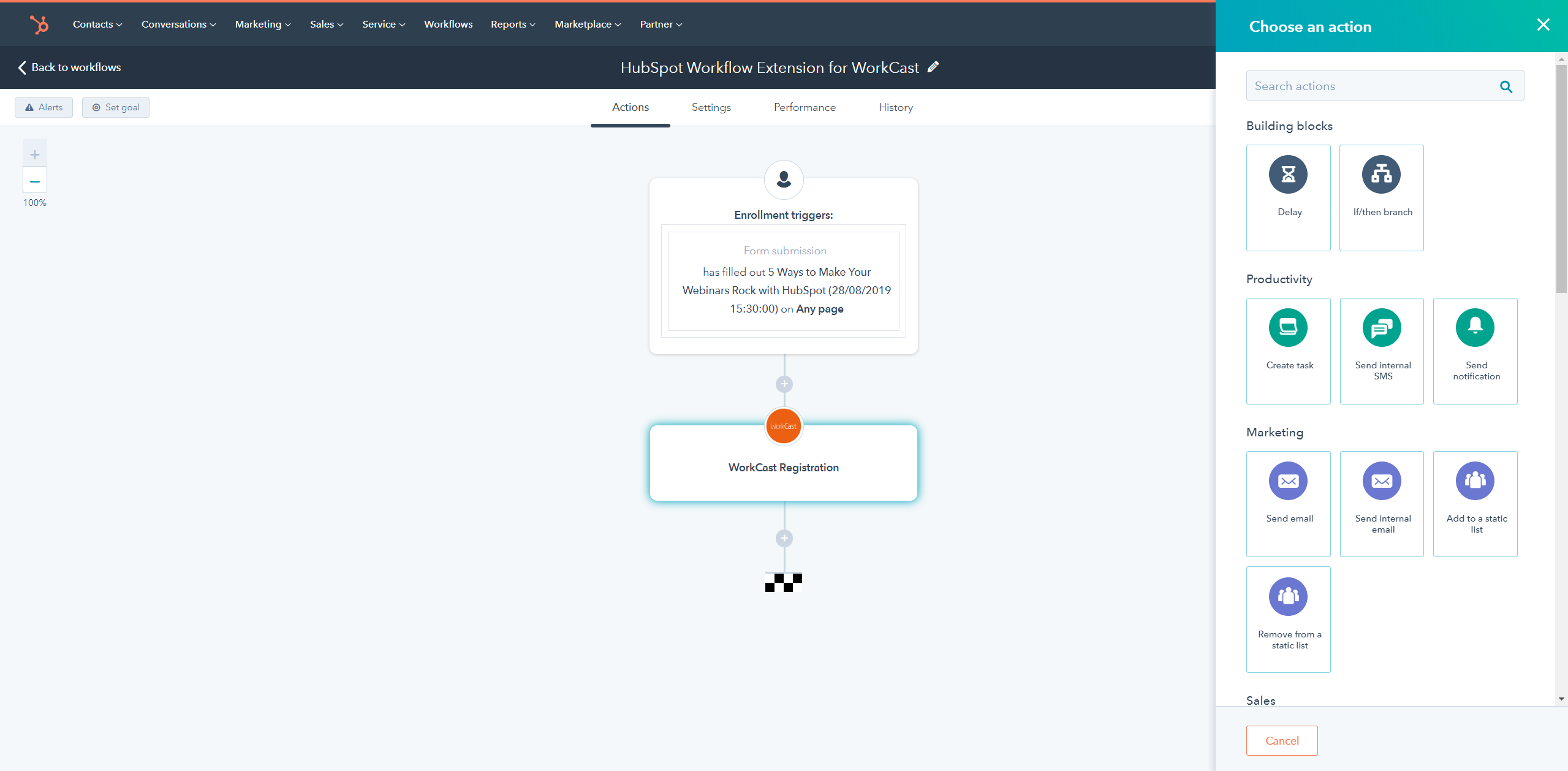 Registrations are 'auto-pushed' from HubSpot to the WorkCast platform, ensuring that your reporting stays accurate and useful. This all happens behind the scenes, meaning you don't have to worry about manual set up or API knowledge.

You can read more about HubSpot Workflow Extensions here, and check out our 30-minute webinar on all of the great WorkCast updates, including the improved HubSpot integration.
So what?
Webinars have a double-edged reputation - boring on one side and stress inducing on the other. There's a bit of truth in this with traditional webinar approaches, but the webinar revolution for Marketers changes this!
Think of webinars as the chance for your business to 'Go Live' through HubSpot. Not many of us can inform, entertain and engage an audience without some help. Webinars provide a simple way to bring people and content together into a live 'performance' for your business.
Your business gets the chance to engage a mass audience in a way that is not otherwise possible without huge budgets. Your audience may be anywhere on earth, using pretty much any device, but they have chosen to spend a few minutes listening to you, your subject matter experts, your marketing team and message.
They can engage, be passive or get involved with polls, questions, social and many other ways. Your business can express itself with video, slides, animations (in slides), webcams, presentation, group discussions, expert panels and in countless other ways.
Doing this 'through' HubSpot, really completes the circle. You can focus on taking your attendees on a live journey through the experience you create around the event, your content and the engagement you and your presenters achieve during the event. Webinars with these goals can release the most interesting and knowledgeable people in your company live to your customers and prospects throughout the funnel. This is a level of engagement you can't really achieve without inviting them right into your office!
Watch our on-demand webinar 5 Ways to Make Your Webinars Rock with HubSpot today.